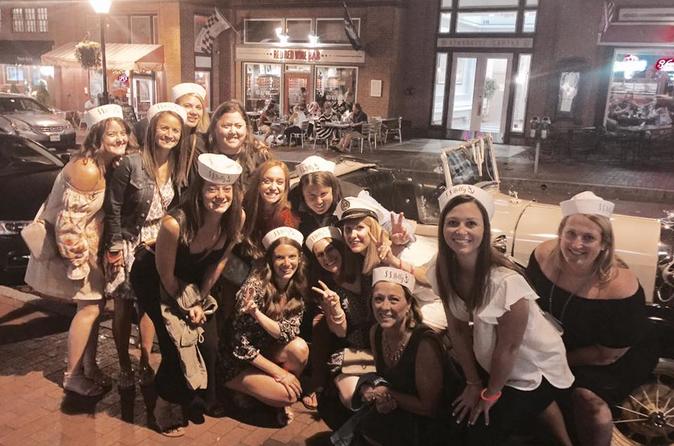 Description
You'll stay in each bar approximately 30 minutes. You will be given ample time to purchase your choice of beverage before the guide launches into their stories. Upon completion of said tales, the guide will provide you with a 5-minute warning to finish your beverages, use the bathroom, etc. Then on to the next stop...

You will visit three or four bars on each crawl - locations visited may include some of the following:
Middleton Tavern
Rams Head Tavern
Federal House Bar & Grille
McGarvey's Saloon
Dock Street Bar & Grill
1747 Pub at the Reynolds Tavern
Harvest Wood Bar & Grill
Drummer's Lot at the Maryland Inn
Harry Brownes
Galway Bay (formerly The Little Campus Inn)
Drinks are not included in this tour; however, each bar usually offers a drink special to our guests. Your guide will have the details!
This tour is limited to Adults (21+) ONLY! No children.
You will be spending most of your time inside sometimes noisy & crowded pubs.
This tour route varies with season, special events in Annapolis, bar availability and the whim of our tour guides. You will go to three or four bars on each crawl, but specific route information is not available until the moment you depart.
So come join this tour, whether you've just turned 21 or you're celebrating your 50th birthday! (Even the Red Hats have taken this tour...apparently tea isn't the only thing these ladies drink!) And you don't have to drink libations or crawl through the doors to participate - this tour is great fun for everyone 21 and over!
Read more
Show less
Baltimore
Choose the type of activity you like