Guided tour to Montserrat from Barcelona with tapas and wine tasting
- Montserrat
Upon arrival to our meeting point, you will be introduced to your local guide and the rest of the group. When everyone is set, we depart to Montserrat Monastery, located an hour away from central Barcelona. Montserrat is a unique mountain in the world, certainly worth a visit if you are in the area. It is considered to be the cornerstone of the Catalan culture, history, nature, and spirituality. Your guide will provide plenty of information about it all during the guided visit. You will see atrium, where many events of the country's history are depicted; the Basilica, inside of which sits the Black Madonna, and its outstanding façade; the 15th century cloister; and the Santa Maria square. At the end of the guided visit you will have some free time (around half an hour) to browse the Monastery's souvenir shop, get a cup of coffee, discover local cheese and honey from Farmer's Market, or soak in the magnificent views from the famous Stairway to Heaven. - Oller del Mas Cellar
After Montserrat, we head to the grounds Oller del Mas, located at the feet of Montserrat. The half-hour drive from the monastery offers wonderful views of the mountain – make sure not to miss them! Oller del Mas is one of the most important wineries in Catalonia, having recently earned the "vi de finca" distinction and the "Best Wine Experience" award. This organic cellar is located in a 10th-century castle, which you will be exclusively allowed to explore with your guide. During the wine tour you will visit the vineyards, the barrel room, and the wine production area. The wine tasting will take place at the end of the visit. You will be able to sample three organic red wines paired with a totally tasty cold tapas lunch with dessert. The lunch consists of six pieces of pà amb tomàquet (Catalan bread with rubbed tomato) topped with fresh ingredients such as cured meats, goat cheese and jam, roasted peppers, wild asparagus, and tuna fish. We cater for any special dietary requirements such as vegetarian or gluten-free diets and any sort of food restrictions. Your guide will ask you about it at the beginning of the tour.
Details You may also like Montserrat
160 Activities Montserrat Half-Day Small-Group Tour with Optional Skip-the-Line Ticket to La Sagrada Familia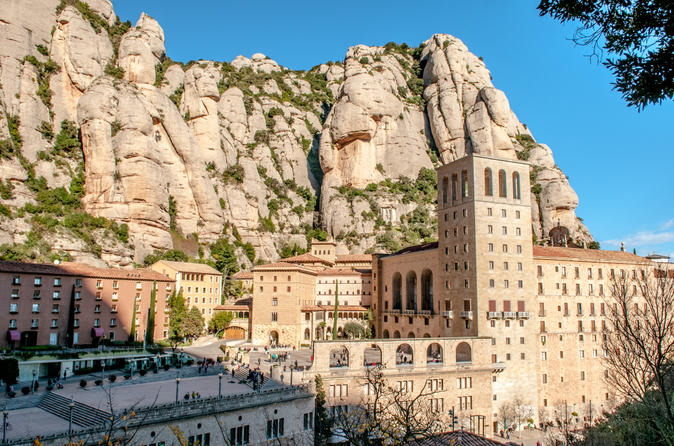 Montserrat Tour from Barcelona Including Lunch and Wine Tasting in Oller del Mas Barcelona Super Saver: Sightseeing Tour with Montjuic Cable Car and Montserrat Tour
See all Montserrat Activities
--- See all Tapas Activities
--- Wine & cava tasting
163 Activities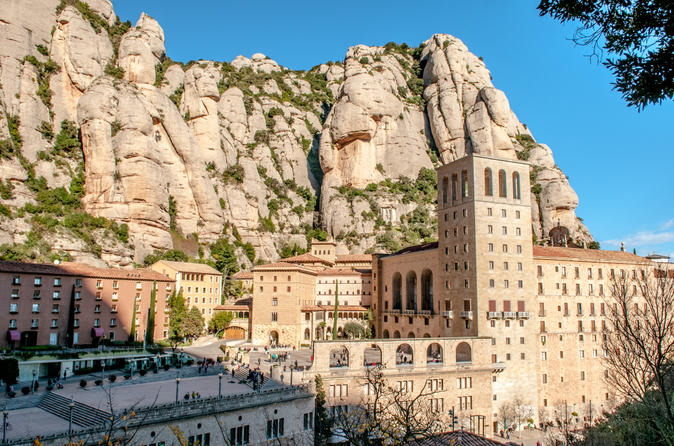 Montserrat Tour from Barcelona Including Lunch and Wine Tasting in Oller del Mas
See all Wine & cava tasting Activities
---
Others experiences in Barcelona