Walking tour in the wonderful Monopoli: Nice cosy Italian old town
Starting from
€138
viator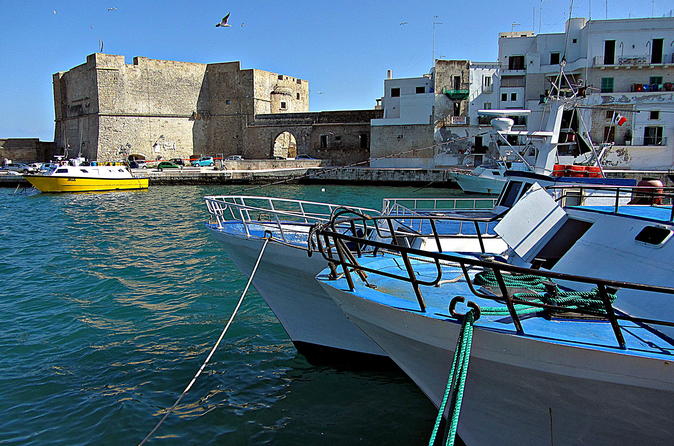 Options
Description
Monopoli is a perfect combination of old world charm and great beach, a wonderful, typical, picturesque Apulian town, which despite it's unquestionable charm manages to retain it's traditional identity.
Lots of quaint narrow streets, pretty squares and a picturesque harbour to boot.
The old town is a typical Apulian gem replete with quaint narrow streets, pretty squares, interesting houses and a picturesque harbour.
The walking tour will take you to visit the small Castle is set in a very picturesque square. The homes and small buildings were charming. You walk thru an arch doorway that opens to the sea with lovely walk along the Harbor. This is a very cute castle and the best part of it is its view over that blue water of Monopoli and its characteristic village surroundings with fishermen's port just by its corner.
Then, you'll see the baroque cathedral dedicated to the Madonna della Madia protector of the town, an amazing basilica. Seemingly small, it reveals to be a huge cathedral with amazing ornaments from the inside. Very elaborately decorated with gold and a variety of marble in amazing colours. The number of side altars along both sides of the main auditorium are stunning.
It's hard to imagine a more fantastic townscape: Narrow alleys, arches, towering spires, a fort, old stone walls, light coming in from a dozen different directions, and a crystal clear swimming beach, right outside the gates. It's a photographic dream.
Read more
Show less
Bari
Choose the type of activity you like