2 Days Package: Full Day Saint-Emilion Tour plus Bordeaux UNESCO 2h30 Tour plus 'La Cité du Vin' Wine Museum Priority Ticket
Starting from
€159
viator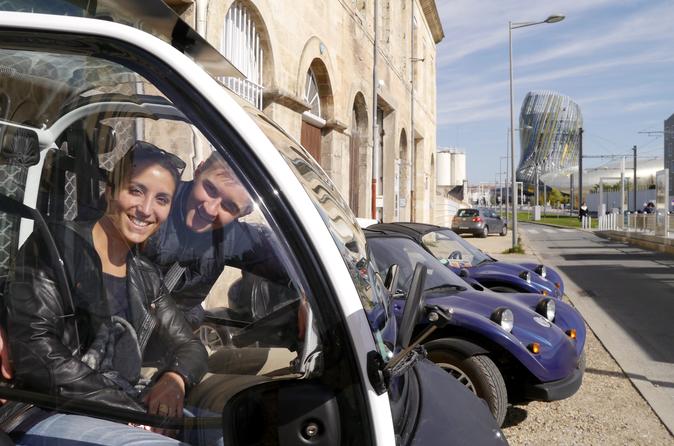 Options
Description
Full day wine tour: A day in a cabriolet with wine tastings to Saint-Emilion.

Bordeaux Unesco tour: At the wheel of an electric vehicle with a 360° view, a two hour GPS multimedia-guided visit of Bordeaux. Discover the UNESCO World Heritage city in a storytelling vehicle, at your own pace!
La Cité du Vin: Embark on an immersive adventure to discover the cultures and civilizations of wine. Your Open priority ticket gives access to the Permanent Tour whenever you wish. Time-saving with no queues and guaranteed entry.
Bring along some friends for an even more enjoyable driving experience: several moving vehicles can be linked together, so you remain in control of your own tour!
An example of a two-day programme:
Day 1 - Morning:

9.00-11.30 am Tour of Bordeaux Unesco in an electric vehicle.
Free lunch (not included).

Day 1- Afternoon

2.00-5 pm (as you wish) visit of La Cité du Vin.

Day 2- Example of a Saint-Emilion Tour, a Unesco World Heritage city.

9.30 am Departure from the Cité du Vin.
10 am You reach your first vines. You will discover the hilly landscapes of the Entre-deux-Mers region, passing by la Sauve-Majeure Abbey (also a Unesco World Heritage site) guided by your GPS tablet. Stop whenever you fancy!
Late morning Arrival in Saint-Emilion.
Tour of the medieval city, multimedia guide tablet in hand if you wish.
Free lunch (not included). If you fancy stopping for a bite at a café, sharing a hearty meal in a country inn, or treating yourself to a gastronomic restaurant, information is provided by the tablet.
3-4 pm Mythic castles loop: Petrus, Cheval Blanc, Angelus…
4-5 pm Wine-tasting visit in a Classified Great Growth: Château de Pressac, de Ferrand, Villemaurine, Soutard … according to availability.
5-6.30 pm Final loop and return to the agency in Bordeaux.
Read more
Show less
Bordeaux
Choose the type of activity you like
Similar activities in Bordeaux
Click to discover other experiences