Bratislava by Beer Small Group Walking Tour Including a Present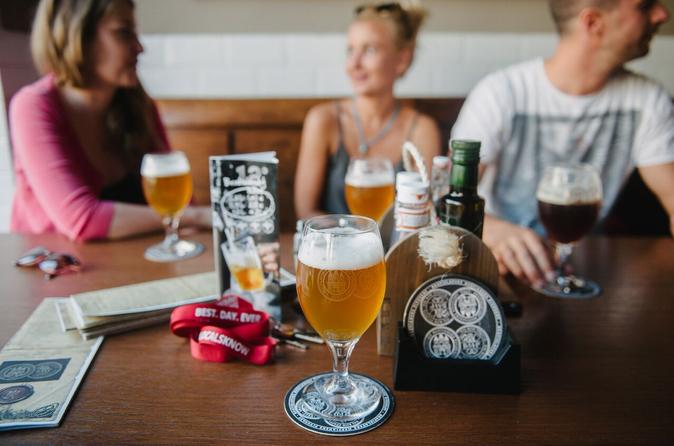 Options
Description
This Bratislava tour is a mix of beer tasting with food bites, all with the goal of getting to know the real city vibes.
We'll kick it all off just as we should on a beer tour: with a beer! We'll start with a visit to a local brewery that also just happens to be our favourite. It's one of the first breweries to open in Bratislava and serves the best food of its type in town. Here, you'll get an intro to the local Bratislava lager (bratislavský ležiak) along with a food-and-beer pairing.
From there, we'll head through the old town, where you'll see some of the very cool buildings that make up this part of the city. We'll cover most of the major sites, but offering a different perspective than you'll get on most touristy old town tours.
Eventually, we'll reach the new "old bridge," where you'll enjoy a spectacular viewpoint — giving us the energy to continue to our next stop, located right on Danube River in Petrzalka, on the other side of Bratislava. At this brewery we'll taste another type of Bratislava beer, paired with an amazing view of the castle and cathedral in old town. Once our glasses are done, it'll be time to move on — in search of more beer, of course!
We'll walk along the river bank, under the old trees, to the "other" bridge with its amazing space-age, UFO-style restaurant. Crossing the river, we'll return to old town where we'll slowly get lost in the area known by locals as the Bermuda Triangle of Bratislava.
During this Bratislava tour, you'll be stopping into secret pubs where you really will feel like a local. These are places that few tourists find on their own, and we'll follow the local vibe to determine where we end up each time. This is a truly unique beer tour — you'll have to earn the beers, the walks, and the views, but you'll come away feeling like a true Bratislava local!
Read more
Show less
Bratislava
Choose the type of activity you like