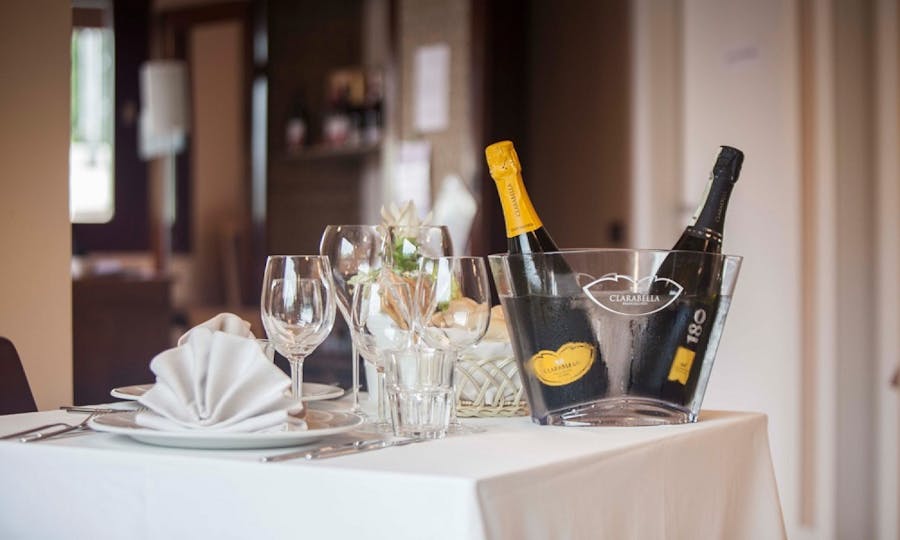 Winery tour and tasting at Clarabella in Franciacorta
About this activity
The Clarabella agricultural cooperative is a social farm founded in 2002 in Franciacorta in order to give work opportunities to people with psychological difficulties. Clarabella takes part in projects that aim at sustainable development: farming, organic wine making, olive oil and honey production and organic vegetable production.
Inside the farm is a winery that produces organic Franciacorta sparkling wine DOCG Brut, Saten, Dosage Zero, Millesimato and Rosé. Franciacorta has been a famous wine-growing area for centuries and Clarabella is a young label that wishes to distinguish itself in terms of quality and ethical principles.
Clarabella creates job opportunities for a number of people that go from cleaning and preparing breakfast to working in the vineyards and in the wine cellar. Clarabella produces organic wines Franciacorta DOCG, extra olive oil, honey and local vegetables.
Join a guided tour of vineyards and the winery followed by an amazing wine tasting of three excellent Franciacorta DOCG: sparkling Brut - Saten - Dosage Zero.
Wine Tasting options
Cheese and cold cuts option
Tasting of 3 glasses (Brut, Saten and Zero Dosage) of our Franciacorta
Focaccia, local salami and cheese

Fish option
Tasting of 3 glasses (Brut, Saten and Zero Dosage) of our Franciacorta
Fish specialities from the lake Agroittica Clarabella
Read more
Show less