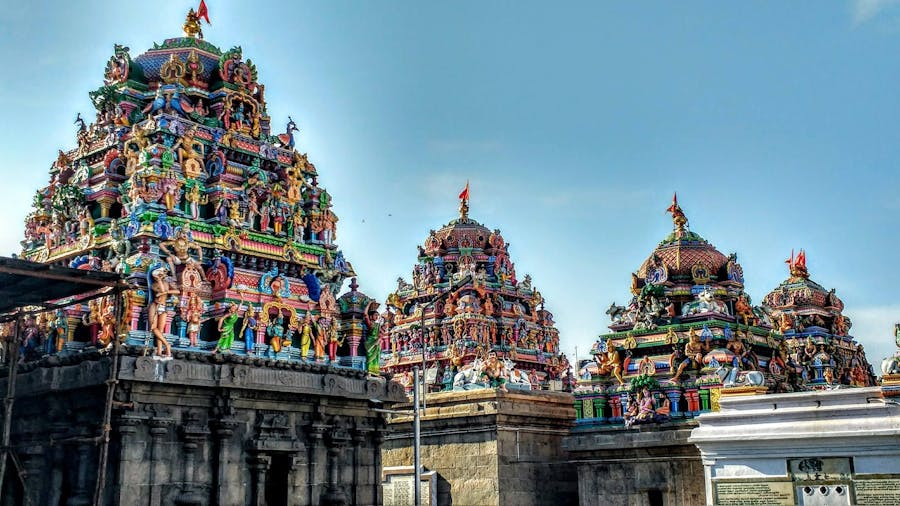 Chennai half day sightseeing tour with Marina Beach sunset and dinner
Variable
Dinner
Sunset & Sunrise
Half Day
About this activity
After pick-up from your hotel at 3:30pm, you will drive to Kapaleeshwarar temple - built by the Pallava dynasty in the 7th century CE and dedicated to Lord Shiva. The temple showcases a typical Dravidian style of architecture with a 120 foot colorful gopuram (gateway tower) with stucco figures adorning it and pillared mandapas (pavilions). The current temple is believed to have been rebuilt using the remains of the original by the Vijayanagar Kingdom in 16th century, after the Portuguese destroyed the original by the seashore in 1566, where there now stands the present day San Thome church.
Legend has it that, Parvati - consort of Lord Shiva offered her devotion to Shiva here in the form of a peacock, and in Tamil peacock is called as 'mayil', and hence, the name developed to Mylapore (town of peacocks), the place where the temple sits now.
Next, you will visit San Thome church, also known as San Thome Cathedral Basilica and International Shrine of Saint Thomas Cathedral Basilica, built over the tomb of the mortal remains of one of the twelve Disciples of Jesus Christ - St. Thomas. The Neo-Gothic church in white has tall spires, stained glass windows, high ceilings and equally tall pointed arches, all adding to the beauty of the structure. The current structure was built by the British in 1896 replacing the earlier Portuguese foundation from 1523.
Later, you'll proceed to Marina beach and spend some evening time of relaxation. Enjoy views of the sun going down the horizon, as dusk approaches. Popular with locals and tourists, Marina beach is India's longest natural urban beach, stretching around 6.5 km.
Lastly, settle down at a local restaurant and enjoy delicious South Indian dinner. Your tour ends after with a drop-off at your hotel.
Read more
Show less
Similar activities in Chennai
Click to discover other experiences