Private Shore Excursion: Paleokastritsa and Corfu Old Town
Starting from
€370
viator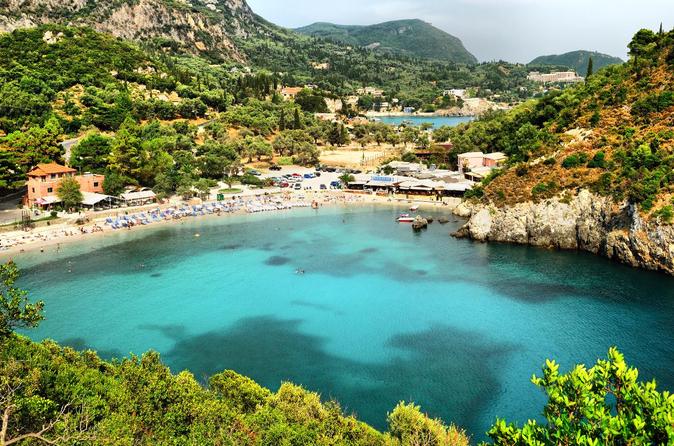 Options
Description
As this is a private shore excursion, the departure time is tailored to suit your cruise ship schedule: you can start out any time between 8am and 2pm. Your private driver will meet you at the pickup point on arrival: upgrade to include a professional guide as well.

It's a dazzling 40-minute drive to Corfu's most beautiful spot: the delightful village of Paleokastritsa. This hilly resort nestles between high cliffs, sparkling coves, and steep slopes lined with olive groves and citrus orchards. It is rightly popular with tourists so expect plenty of amenities but also manages to retain its charm: you'll spend about 45 minutes here soaking up the atmosphere.

It's just a short drive up the hill to Paleokastritsa Monastery (admission free), set on a rocky promontory with spectacular sea views. Dedicated to the Virgin Mary, the monastery was originally founded in 1225 but the buildings are from the eighteenth century. There's a small museum with religious articles, books, and the skeleton of a fabled sea monster!

From here, it's another 40 minutes to beautiful Corfu Town,and the UNESCO-listed Old Town where the narrow streets offer windows on ancient Venetian and Byzantine architecture.

You'll have around 90 minutes here. Enjoy a walk on Spianada Square, and stroll along the 19th-century Liston arcade, where aristocrats used to enjoy their evening promenades. Take the time to admire the 15th-century Old Fortress as well as the Palace of St. Michael and St. George. If you've opted for a guide, you'll easily find St. Spyridon Church, built in 1596 and filled with silver treasures.

You may wish to pick out classic souvenirs such as olive oil, ouzo aniseed liquor, and products made from kumquat, Corfu's signature fruit. Your private driver will ensure you return to your cruise ship four hours after you left it.
Read more
Show less
Corfu
Choose the type of activity you like
Similar activities in Corfu
Click to see similar products in the collection