Sacred Valley of the Incas tour and Machu Picchu
Starting from
€377
viator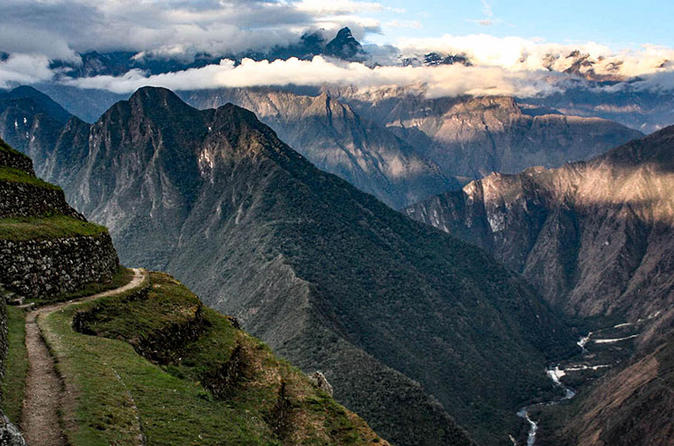 Description
Day 1: Sacred Valley VIP with Maras Moray
An amazing tour awaits us today. We will start our VIP excursion through the Sacred Valley of the Incas in Chinchero, where we will join a traditional weaving workshop. Our guided tour will bring us to the non-traditional Maras Moray circuit, a gigantic circular depressions in the
ground surface, with their respective irrigation canals. Then we drive to the salt mines located 7 km from Moray. To the northwest of the town of Maras, we will find around 2000 small wells that local people still use today to provide themselves with salt. Next is Urubamba for lunch. In the afternoon we will visit the village of Ollantaytambo and the Inca Archaeological site of Ollantaytambo (the name of the city behold an amazing history similar to Romeo & Juliet that our guide will have the pleasure to explain to you more in details). From Ollantaytambo you will board a train to Aguas Calientes where you will pass the night.


Day 2: Guided tour of the Machu Picchu
Today after breakfast we visit Machu Picchu site! A walk up the Machu Picchu Mountain is necessary in order to attain the entrance of the site (you can always reserve a bus ride). You will meet your guide at the entrance to start your 2 hour guided tour and afterwards you will have free time to explore on your own. For those who reserved Huayna Picchu or Montaña in advanced will be brought to the entrance to start an exceptional climb over this Incan marvel. Later in the afternoon, we will board a train from Aguas Calientes at 6.20 p.m. to Ollantaytambo. Remember to be at the station in Aguas Calientes at least 30 minutes in advance. In Ollantaytambo there will be a driver waiting just outside the exit of the station to bring you back to Cusco by bus.

NOTE: To climb Huayna Picchu it is necessary to reserve at least 1 month (can vary) in advance, due to limited availabilities.
Read more
Show less
Cusco
Choose the type of activity you like
Collections
This experience is part of these collections