Ancient Tastes of Genoa Including Food and Drink Samples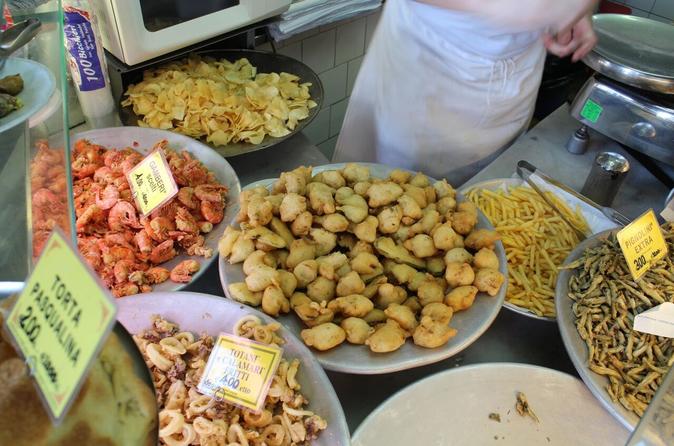 Description
Your adventure through the ancient flavours of Genoa will start at the beautiful Neptune Galleon, a replica of a 17th-century Spanish ship, located just a few steps away from the aquarium. From there, we'll head toward our first tasting spot: the oldest 'friggitoria' in town, where you'll get to sample some freshly fried food. 
We'll then keep going, following through the Sottoripa quarter to reach a Focacceria shop, where you can try one of the most typical foods you'll find in Genoa: focaccia, of course! This well-known bread is much more than a plain slab of dough and can be topped with a variety of ingredients. 
Next up on this Genoa tour, wander the streets of the historic centre, Vicoli, which will lead you to more samples like farinata (a thin pancake made with chickpea flour) and pesto — by far the most famous local speciality.
Between all food stops, you'll also pass by lovely old buildings, like the San Lorenzo Cathedral, and you'll learn a few interesting facts about this city and local life here. 
The second part of your Genoa food tour will be dedicated to sweet flavours, so let's just forget the diet for today and find out how indulgent this place can be.
First up, visit a traditional pastry shop, where you'll be served some canestrelli biscuits, then we'll head even deeper into the historic centre to experience just how sublime gelato can really be. This gelateria has won various awards for its products, so it's top-quality stuff! 
After a gelato, there's no reason not to try some nice chocolate and candied fruit, so we'll carry on following our sweet mood and visit a local confectionary shop that's considered an institution in the town. As one of the more historic shops of Genoa, this little boutique has been producing chocolate, sweets, and rose syrup since 1780, so we're definitely going to taste and learn a few good things! 
Lastly, we'll digest all that deliciousness with a good cup of coffee. We'll keep twisting along the narrow streets until we reach an old café where they'll welcome us with an espresso, just like the tradition calls for. 
Then, once our palate is fully satisfied with the tastes of Genoa, we'll head back to the Neptune Galleon, where our tour ends and you're free to explore more of Genoa on your own or with new friends.
Read more
Show less
Genoa
Choose the type of activity you like