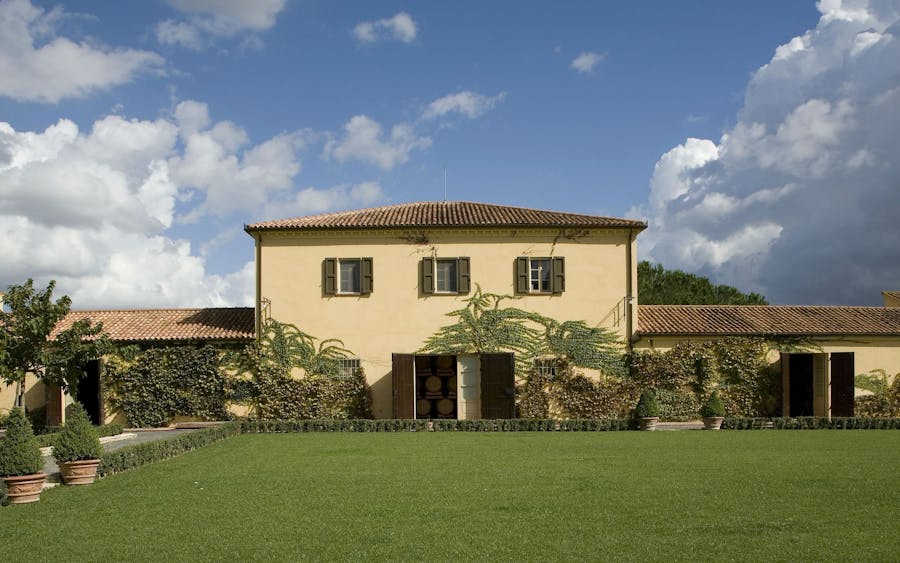 Morellino and Supertuscan tasting at Le Pupille winery
About this activity
Le Pupille is a member of The Grand Wine Tour: an Association of the finest wineries across Italy offering exclusive wine tastings, boutique hotels, Michelin-starred restaurants & unique activities dedicated to wine lovers and a luxury clientele. TGWT Mark of Excellence is the very first Italian certification of quality distinguishing high standards in wine tourism hospitality.
The history of the Pupille farm and winery dates back to the 1960's when Alfredo decided to transform a summerhouse into a typical Tuscan farmstead. This initial production of private wine grew into a larger wine-producing project in the 1980's, as the vineyards expanded to cover more of the farmland. This project had great success also thanks to the support of one of the greatest world leader in wine production, Giacomo Tachis, oenologist and father to many famous wines including Sassicaia, Solaia and Tignanello.
Upon the death of its founder in 1985, the management of the farmstead enters into the hands of Elisabetta Geppetti - a young woman with a fresh and strong vision. This date marks the transition of the business from a family farmstead to a true, modern wine producing facility.
The wines produced at Pupille are made unique by the winery's philosophy that mixes a well-defined respect for tradition with a contemporary vision and environmental awareness. In the wine, you will find the wisdom of the past revisited by an extremely technical and professional formula.
The base of all of Pupille's products is a great elegance reflected in the extremely evolved tannins balanced also with a great freshness determined by the ideal acidity thanks to the sea breeze that reaches the vineyards spread throughout Maremma.
Initially the farmland included 12 hectares of vineyards dedicated to experimenting with the Sangiovese already found on the land; over the years, however, the land has grown to include 420 hectares - 75 of which are vineyards and 20 of which are olive groves.
At the farm, guests enjoy walks and picturesque scenery that can be experienced only in Maremma Tuscany. Immerse yourself in one of the many tasting experiences included among the following:
Classic Wine Tasting
Pelofino
Morellino di Scansano
Riserva
Solalto
Morellino Wine Tasting
Morellino di Scansano
Riserva
Poggio Valente
Come and Wine Tasting
Rosamati
Poggio Argentato
Pelofino
Morellino di Scansano
Riserva
Solalto
Cru Wine Tasting
Poggio Argentato
Poggio Valente
Saffredi
Solalto
Cigars & Chocolate Guided Wine Tasting
Saffredi & Solalto paired with cigars and chocolate
Special tasting of a vintage wine
Read more
Show less