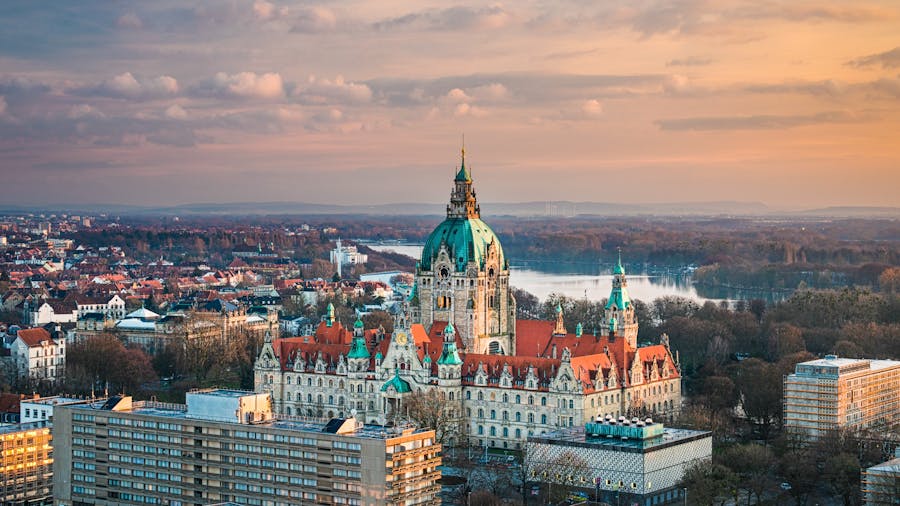 Hanover private walking tour
About this activity
Discover the fascinating city of Hanover during a private walkig tour and learn more about the rich history and visit all the major highlights.
Meet your guide in front of the Market Church, the main Lutheran church in Hanover. Built in the 14th century it's considered to be one of the most well-known examples of the North German brick gothic architectural style. Admire the Old Town Hall, built in about 100 years, with Romanesque style influences and Neo-Gothic architecture. Close by, you can see another landmark, the Ballhof Building that used to be a sports hall designed for ball games out of the wind and rain. Later it was used as an assembly hall and eventually became a theatre.
Move on, walking through the winding alleys all the way to Kreuz-Church the oldest church in Hanover, dating from 1333. Continue your walk until you reach Oskar-Winter-Fountain, a local fountain with a fascinating story. The legend says that if you make a wish and turn the small brass ring embedded in the ironwork, that wish will come true. Behind the fountain, you can see the Leibniz House, the place where the mathematician and philosopher Gottfried Wilhelm Leibniz (1646-1716) used to live. Let's move on to the next highlight, the Aegidien Church, a reminder to the horrors of war. Destroyed during the WWII, it was never repaired or reconstructed. You will continue the walk to the last tourist attractions, the New Town Hall. Climb the 98m to the top in the curved lift, the only one of its kind in Europe, inside its green dome for a breathtaking view of the city and, if lucky enough, a view of the Harz Mountain range.
Read more
Show less
Similar activities in Hanover
Click to discover other experiences