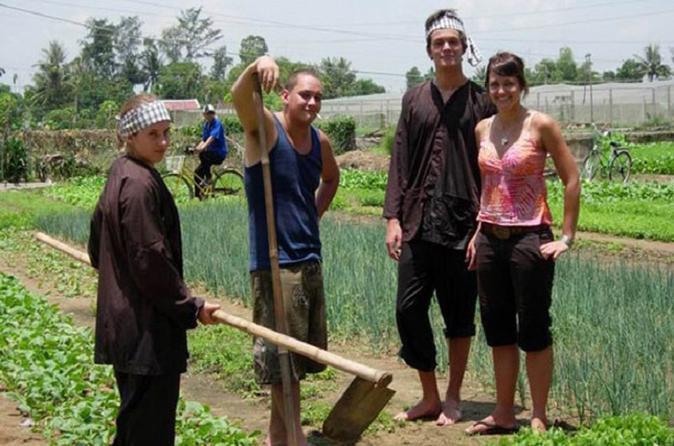 Hoi An Cycling and Farming Tour at Tra Que
About this activity
If you want to experience the local way of life you can perfectly do that in one of the villages surrounding Hoi An, we know the place to go to. Void of the bustling street life in Hoi An, Tra Que is a charming little village located just a few kilometers northeast of Hoi An. This village is famous for many kinds of herbs and vegetables which spice and cheer up all the dishes of the area. We will make even more local when we take bicycles and ride into small paths and alleys where one normally does not come when taking a car. For those looking for something truly green, authentic and with a fun twist to it, don't look any further.
In the morning you will have a leisurely bicycle ride to one of the farms of Tra Que village. You will be warmly greeted there and the host farmer will make a brief introduction about the herbs and vegetables grown locally. Walk through the market gardens where local farmers work on their fields using the traditional methods of hundreds of years ago – hardly any electrical machinery here. Having put on the farmer's authentic attire you will learn the proper ways of preparing and fertilizing the soil, planting, watering and harvesting and without the use of chemicals. After getting your own harvest you will enjoy a foot bath with local herbs that will relax your feet and take away the day's fatigue.
As a reward for all the morning's hard work a simple home-made lunch will follow. You will appreciate the subtle and sophisticated taste and the unique combination of flavors in such famous traditional local specialties as Tam Huu spring rolls with their mint leaves, shrimps and pork meat and Banh Xeo pancakes stuffed with herbs, vegetables and meat. Using the freshest ingredients and created by local chefs, guests will savor these simple, Vietnamese dishes. You do not only have to enjoy it; the chefs welcome participants to learn about the secrets of Vietnamese cooking in assisting them by using fresh ingredients from the nearby gardens.
After lunch, ride back to Hoi An, making stops at the historic Nhat (Japanese) tomb and Ba Le, a thousand-year-old well that has played an important role in local community's life and beliefs. Transfer you back to the hotel in the afternoon.
Read more
Show less
Features
Tourism
70%
Cultural
45%
Sport
35%
Original
25%
Collections
This experience is part of these collections