A Full Day Sea Kayak Tour At North Lamma Island Hong Kong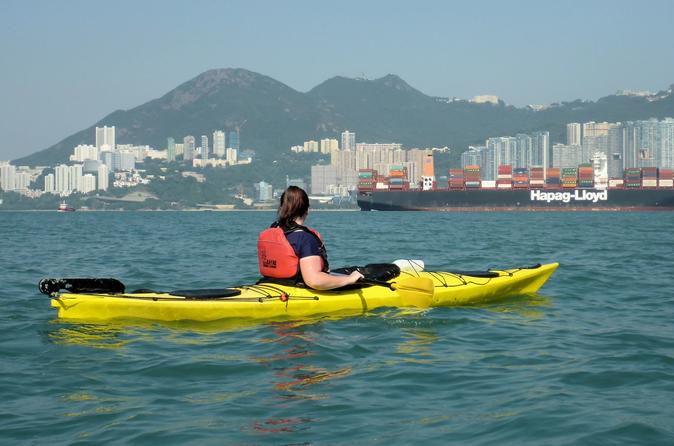 Options
Description
Prior to British colonisation Lamma Island was described by the Portuguese as one of the "islands of thieves", relating to the thousands of pirates that lived here. Today it is regarded as Hong Kong's hippy capital, with its laid-back island lifestyle, live music scene, arts and crafts stalls, boutique restaurants and cafes and of course fresh organic foods. A far cry from the previous inhabitants' life of plunder and mayhem.
This sea kayak journey is about 15 k's long and will take you from Sok Kwu Wan (Picnic Bay) on the east coast around the northern tip down the west coast to Kayak Beach. This trip may be reversed depending on the winds on the day.
On the east coast of Lamma, you will kayak through ancient floating fishing villages with their occupants working from plodding sampans, wearing matted bamboo hats with handheld fishing lines. Just 2 kilometres away you can see the modern skyscrapers of clinging tenaciously to the almost vertical, lush green mountains of Hong Kong island. We pass, or if we have enough time, we may visit a deserted island known locally as "dog Island" for a swim or to take in the undeveloped coastal scenery that hasn't changed in more than 60 years.
You will definitely witness the passing of huge container ships as they enter and leave Hong Kong via the East Lamma Channel.
As you round the north of the island the view is towards Kowloon and Lantau Island. On a clear day, you can even see Disneyland!
The western side of the island is another feast of differences. We will probably stop at the main village of Yung Shue Wan, to explore the busy village life. Not far from here is Hong Kong's sole power station, built on a land extension with its shipping terminal. We actually paddle under this enormous structure as we journey north or south.
Finally, to end our journey, we are exposed to the open South China Sea with the distant islands to the south barely showing over the horizon. Here, the west coast of Lamma is untouched. No development has occurred in modern times and the ancient coastal pirate villages have long been abandoned.
Our view is of steep jungle-clad hills that fall into the sea, the coastline is broken with white sand beaches and rocky escarpments. More than likely, on warm days you will see multi-million dollar super yachts at anchor just offshore from one of these beaches. That's who we share our day with!
No matter how many times you experience these incredible differences side by side, you can never quite get used to it - all within a simple day's paddle! It's only possible in Hong Kong.
The tour finishes at Kayak Beach, an easy 20 minute from Sok Kwu Wan. We will have time to return to our sea kayak base to change into dry clothes before catching the 5:35 pm ferry back to the city of Hong Kong.
A picnic lunch & water is included.
Read more
Show less
Hong Kong
Choose the type of activity you like
Collections
This experience is part of these collections