Sparta-Mystras-Mycenea-Epidaur-Corinth 2 Days Private Tour
Starting from
€140
viator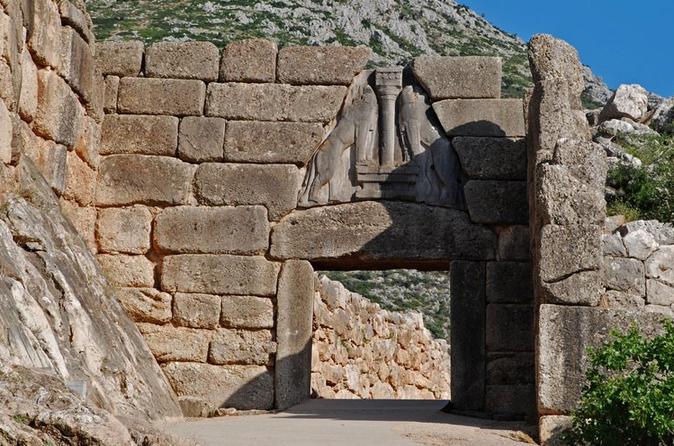 Options
Description
1st Day:
This tour will give you an excellent taste of the history of Laconia combining Ancient Greek and (the lesser known) Medieval Greek history. We will begin with our first stop the Corinth Canal. After reaching Mystras you will automatically understand why this location stands so unique within the Greek sites. Known as the ghost city, fortified on a citadel, Mystras is one of the two locations in Greece that preserves not only medieval churches but also ordinary houses, mansions and palaces of the Byzantine Empire in combination with Frankish elements. Walking in the site on the upper point you will reach the citadel and enjoy a magnificent view of the surrounding areas while walking down hill you will meet the palaces and the Royal courtyards. Although known as the ghost city most of the monasteries are still in use and the monks will gladly show you around their small society. Before you exit you will come across the chapel of St. Demetrios, on its floor survives a plaque depicting a two head eagle (the symbol of Byzantium). It was on this very plaque that Konstantine Palaiologos kneeled before he was crowned the last emperor of the Byzantium.
Before visiting Sparta we will stop at a traditional Greek tavern at the small village of Mystras. Following that we will spend the rest of our time in Sparta known as the eternal rival city of the Athenian Democracy. Reaching Sparta we will visit the ancient citadel of Sparta where you will have a view of the ancient theater being revealed gradually in front of your eyes. Continuing we will pass in front of the stadium where the statue of King Leonidas.
2nd Day:
On the following day we will drive to Mycenae dated to the 2nd millennium BCE representing the era of Achilles Agamemnon and Helen of Troy. Following will be the site of Epidaurus. After that we will travel towards more recent history of Greece to the city of Nafplion. Considered the most scenic city it functioned as the capital of Greece until 1834. Nafplion offers you a outstanding combination of fortresses and castle (Palamidi), Bourtzi, a huge port opened to the Aegean Sea and the unique architecture of the old city of Nafplion revealing Venetian, neoclassical and oriental elements . After walking in the idyllic old city we will stop for lunch at a traditional tavern by the sea, and drive up to the castle of Acronafplia for a panoramic view of Nafplio.
Last stop will be the site of Ancient Corinth. The city dominated by the hill of Acrocorinth and the old Castle, the oldest and largest castle in southern Greece. Apart from its archaeological and historical interest Ancient Corinth is also one of the most popular religious destinations in Greece as this was where the Apostle Paul preached Christianity, was judged by the tribunal in the Agora and established the best organized Christian church of that period. Lastly the way back Athens.
Read more
Show less
Kallithea
Choose the type of activity you like
Collections
This experience is part of these collections