16DAYS EVEREST BASE CAMP TREK WITH 5 STAR ACCOMMODATION AT GOKARNA FOREST RESORT
Starting from
€963
viator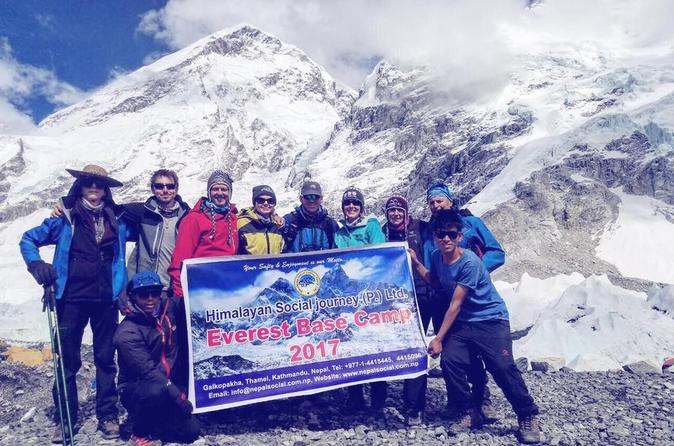 Description
Outline Itinerary
Day 01: Arrival at Tribhuwan International Airport and transfer to hotel, at evening orientation will be at Kathmandu hotel. After orientation Welcome Dinner with the Cultural program (A program with dances and singing from different ethnic groups and cast of Nepalese community with Nepalese dinner). Overnight at Hotel Holy Himalaya. (D)
Day 02: Morning Yoga. After breakfast full day sightseeing tour of Kathmandu valley (Pashupatinath Temple, Boudhanath, Swoyambhu, and Patan Durbar square). Overnight at Hotel Holy Himalaya. (B)
Day 03: Kathmandu to Lukla by flight and trek to Phakding (2600M.). Sherpa Shangrilla Resort. (B)
Day 04: Trek to Namche Bazaar (3535 m). Overnight at Hotel Sherpa Land. (B)
Day 05: Acclimatization day in Namche Bazaar. Overnight at Hotel Sherpa Land. (B)
Day 06: Trek to Tengboche (3850 m). Overnight at Rivendell Guest House. (B)
Day 07: Trek to Dingboche (4350 m). Overnight at Bright Star Lodge. (B)
Day 08: Acclimatization in Dingboche. Overnight at Bright Star Lodge. (B)
Day 09: Trek to Lobuche. Overnight at Mother Earth Lodge. (B)
Day 10: Trek to Gorakshep (5160M) and hike about 2-3 hour to base camp and trek back to Gorakshep. Overnight at Himalayan Lodge. (B)
Day 11: Early morning hike to Kalapathar (5545 m) and trek back to Pheriche. Overnight at Pumari Lodge. (B)
Day 12: Trek down to Tengboche. Overnight at Hotel Rivendell Lodge.(B)
Day 13: Trek down Namche. Overnight at Sherpa Sherpaland. (B)
Day 14: Trek down to Lukla. Overnight at Hotel Mera. (B)
Day 15: In the morning, fly back to Kathmandu from Lukla. After arrival at hotel special Massage. Evening dinner and overnight at Gokarna Forest Resort. (B.D).
Day 16: Morning yoga, breakfast and transfer to airport for your departure. (B)
Note:-
To avoid the risk of missing international flights, it is always recommended to have 2 or 3 days extra at the end of the trip to fly international, because Lukla airport is sensitive to fly and the chance of delay or cancellation of the flight is always there due to unforeseen circumstances and sudden weather transitions. 
Also be prepared to pay some extra money for Helicopter charter flights (approx. USD300-400) if the regular flights are cancelled or delayed for few days. Make sure that you have full-fledged Insurance at home to cover it.
If in case you gain those days, then you can spend extra days to go to Chitwan National Park, white water rafting or Pokhara valley tour or do Yoga, massage etc. at the end of the trip.
If in case the flight is cancelled or delayed more than 2 days, we will divert your trek to Annapurna Base Camp alternatively. In this case, we would give the complementary of Everest scenic flight for the betterment of your trip without any additional charge
Read more
Show less
Kathmandu
Choose the type of activity you like
This activity is part of some collections
Click to see similar products in the collection
You may also like
Click to see similar products in the collection