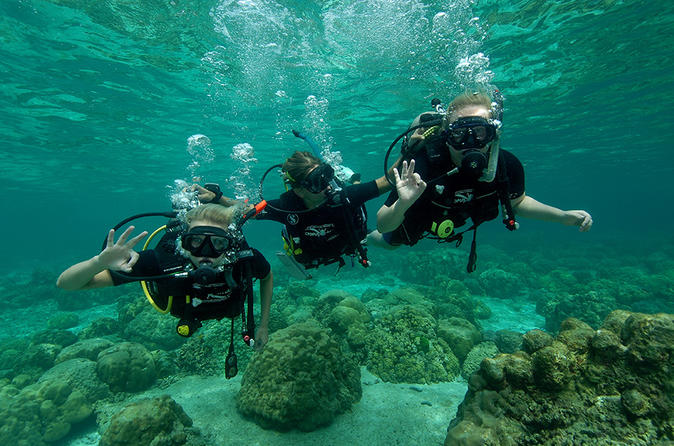 Options
Description
The boat leaves at 8am from our pier located just next to main ferry passenger port. We will serve a delicious western breakfast on the way to the site, snacks in between the dives and a full Thai buffet on the way back (around 4pm).

It is a 2 dives trip. You will enjoy two 40ft (12m) dives and for a maximum bottom time of one hour for each of them.

During the discover diving course, you will learn what wearing scuba equipment feels like and how easy it is to move around underwater while wearing it. You find out what it is like to breathe underwater and learn whether you can be comfortable there. You also learn some basic skills and safety rules that will carry you over to your full scuba certification course when you take the next step.

You will use all the same basic scuba equipment that regular certified divers do. We have special masks, fins, snorkels, buoyancy compensating jacket and wet suits in all sizes.

This course includes a full equipment complete set, a hotels pickup and drop-off, breakfast, lunch, drinks, snacks, fresh fruits and small group guaranteed of 2 - 3 students per Instructor!

Please note that this course doesn't include an entrance ticket to National Park (fee - 600 THB) if you want to experience your dives at Koh Haa National Park.
Read more
Show less
Ko Lanta Noi
Choose the type of activity you like