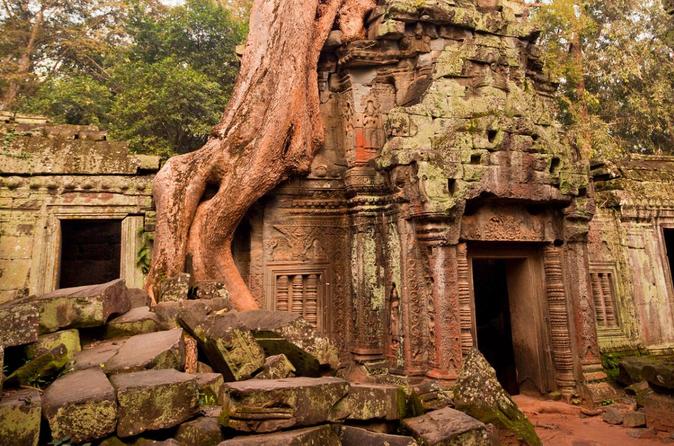 Description
On this day tour we will visit the Ta Prohm temple in the morning. This ancient structure was erected in from the 12th to the 13th century. After it was abandoned, it was covered by vines and jungles and most sections of the temple crumbled to the ground. Part of its appeal today is the fact that most of it is still covered with dense vegetation, pretty similar to when it was first rediscovered.
Our next destination is Angkor Thom, the last known capital of the Great Cambodian Empire under the rule of Jayavarman VII. This ancient city is enveloped by eight-meter high walls and is situated in a perfect-square compound. You will explore the inner part of the city through the South Gate where you see marvelous carvings of elephants and four giant faces. Lining the path of the entrance is a row of 54 demon or god-like structures holding aloft a sacred snake known to Khmers as Naga.
You will continue your journey towards the heart of the city, Bayon Temple, where you will be amazed by the grandeur of the structures. This temple is popular for its 54 towers, each one depicting mysterious face and is believed to be a symbol of each province of the Empire. Find your way to the Terrace of the Leper King and Terrace of the Elephants whose elaborate bas-relief are simply attention-grabbing. You will return back to your hotel where you can have time to explore the town, take your own lunch, and spend the remainder of the day as you wish.
Read more
Show less
Krong Siem Reap
Choose the type of activity you like
Collections
This experience is part of these collections