Eat Like a Local: Kuala Lumpur Hawker Center and Street Food Tour by Night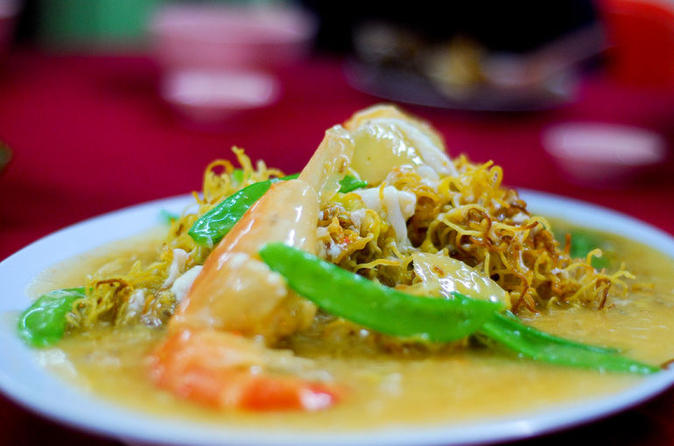 Options
Description
After meeting your guide at a central Kuala Lumpur location, easily accessible by the city's Light Rail Transit, your small-group food tour begins as you board an air-conditioned vehicle for the drive to the KL neighborhood of your guide's choice (the neighborhood(s) you visit are up to your expert guide and will vary based on the day of the week).

One such neighborhood you may visit is the Bangsar area, which boasts a wide array of food spots like mamak stalls serving traditional Tamil-Muslim cuisine, South Indian banana-leaf restaurants serving delectable treats on a banana leaf, and Malay warungs (small family-owned establishments serving both local and Western snacks). Or, you might head to Petaling Jaya, where you'll visit a 'round-the-clock hawker center (open-air food court) to try food from select stalls frequented by locals. Another possible destination is Brickfields, a popular hawker center famous for its South Indian restaurants and Chinese coffee shops serving traditional Chinese fare like dim sum.

No matter where you end up, rest assured that you'll have a vibrant KL experience. As you follow your guide's lead, you'll weave through alleys and around food stalls with ease, knowing your guide will order your food and make sure you taste the most delicious dishes of the day (or night). Try nasi lemak, a fragrant coconut rice with chili paste, anchovies, peanuts and vegetables. Or maybe you'll have stir-fried Chinese noodles; an assortment of Indian breads with chicken, fish and mutton curry; or Malaysian desserts such as ondeh ondeh, rice balls with palm sugar and coconut shavings. As you are introduced you to local favorites, you'll experience interesting Malaysian customs with the comfort of a guide who knows all the ins and outs of KL's food culture.

At the end of the tour, you'll be driven back to the original meeting point.
Read more
Show less
Kuala Lumpur
Choose the type of activity you like
This activity is part of some collections
Click to see similar products in the collection
You may also like
Click to see similar products in the collection