2.5 Hour Las Vegas Downtown Art and History Group Walking Tour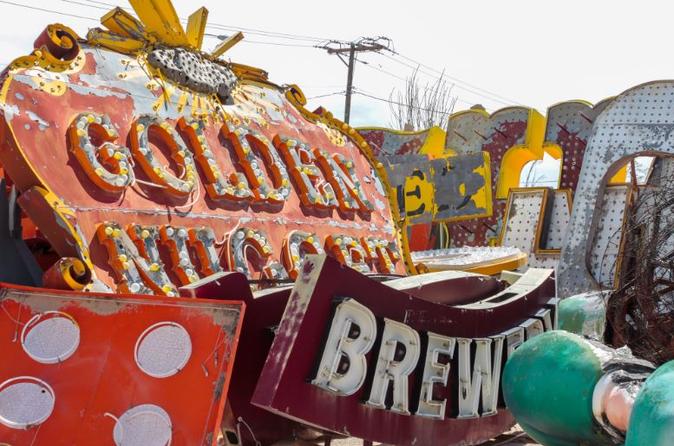 Options
Description
Your tour starts in the oldest arts neighborhood in Las Vegas — the Cultural Corridor — just a few blocks from the downtown core. The neighborhood is home to a community of cultural facilities, including the legendary Neon Museum, or Boneyard, a 2-acre outdoor site home to more than 500 historical neon signs. With a refreshment on a terrace overlooking the Boneyard, your local guide will introduce the tour while giving you a short narrative about the sign collection.

Then trek down the hill to the Las Vegas Natural History Museum, where the geologic past is on display along with a collection of animal specimens. Continue to the 19th-century Stewart Ranch, and then turn back up the hill toward downtown, crossing a neon-inspired artist-designed bridge, over to the Las Vegas Library, one of the city's most iconic civic buildings. Pause at the city's other famous pop culture museum: the Mob Museum. Here, on the steps, listen to a brief history from your guide about the museum.

Next, you'll arrive at the second downtown neighborhood, Fremont Street, which was once the social and commercial center of the city. Hear about the famous casinos of yesterday and the larger-than-life figures who ran them, and see for yourself how neon became the visual landscape of Las Vegas.

Walking several blocks to Fremont East, the third and final neighborhood on your arts and history tour, you will cross Las Vegas Boulevard at the Horse & Rider, the flagship sign of the Neon Museum installed about 20 years ago. Upon arriving in the entrepreneurial Fremont East neighborhood, you'll see how the urban landscape comes down to a pedestrian level.

This new entertainment district encompasses about 30 blocks, with cozy restaurants and popular local bars, mostly driven by the Downtown Project of Zappos fame. Here is a neighborhood of festivals, public art, and a range of creative entrepreneurs, a few who you may encounter on the walk. Check out some fantastic murals in the Ogden neighborhood produced by some of the most noted mural artists in the world.

Finally, end your walking tour at Fremont and 7th Street, an intersection that brings together old-school Vegas — El Cortez Hotel — with the new model of urban downtown — the Container Park. It's a pairing that represents the constant theme of reinvention. On one corner is the classic hotel of Bugsy Siegel fame, with great architecture, neon, vintage Vegas charm, and maybe even a ghost or two. The Downtown Container Park with its shipping containers is the flagship effort of the Downtown Project and features 40 shops and studios of local entrepreneurs.

Receive some great recommendations on where to catch lunch and a good drink, as well as a complimentary map of downtown.
Read more
Show less
Las Vegas
Choose the type of activity you like
This activity is part of some collections
Click to see similar products in the collection
You may also like
Click to see similar products in the collection