Mazatlan Shore Excursion: City Tour and Cliff Diving Show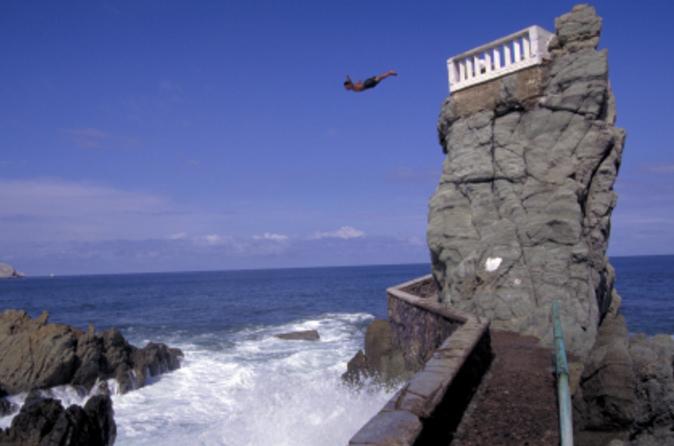 Description
Mazatlan is a city full of history and wonders, and you'll discover it all on this city tour shore excursion. The history is a mix between the early Aztec settlers, the Spanish arrival in the mid-16th century and the Western (French and American) invaders. Although both the French and the United States invaded Mazatlan in the mid-19th century, the only remaining evidence is the old Spanish Fort.

Venture away from the Northern tourist zone and visit Old Mazatlan -- a charming, picturesque, typical Mexican downtown. Visit the 19th-century cathedral and its majestic rising towers, and take a stroll in the famous Plaza de Revolucion. The marketplace is located only two blocks away and is a must-see when in Mazatlan. Wander through the different stalls with the locals, and browse for gifts for friends and family. The marketplace has everything from fresh fruits and vegetables to small souvenirs.

Mazatlan is also known for the resting place of the famous opera singer, Angela Peralta. Head over to the Machado Square, a plaza surrounded by picturesque sidewalk cafes and historic buildings, and explore the Angela Peralta Theater. Ironically, the "Nightingale of Mexico" never actually performed at this theater. While she was en route to Mazatlan to perform at the theater, she fell ill to yellow fever on her ship and passed away before she could perform.

Also famous in Mazatlan is the dangerous sport of cliff diving. You'll witness first-hand how these daredevils jump from 45-foot (14-meter) platforms into only five feet (1.5 meters) of water. It's a show not to be missed when in Mazatlan!

Worry-free Shore Excursion:
We will ensure your timely return to the Mazatlan pier for this activity. If you are not returned to the ship on time to board, we will arrange for transportation to the next port-of-call. See our terms and conditions for full details.
Read more
Show less
Mazatlan
Choose the type of activity you like