Half-Day Tour of Medellin, Colombia including Pablo Escobar Sites
Starting from
€114
viator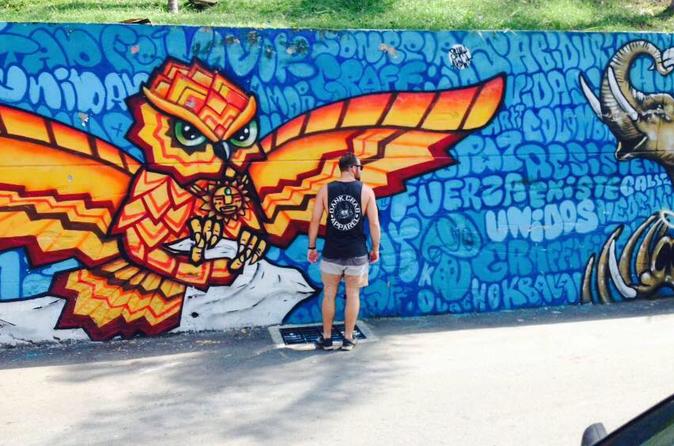 Options
Description
The Pablo Escobar tour in Medellin starts at "Los Olivos" the neighborhood where Pablo was murdered.


 We'll visit the Monaco's building with its elegant marble front. This building used to hold the narc's art collection, cars and other eccentric possessions. This building is now being watched by the local authorities.


You'll see the most exclusive cemetery of the city, where the narc's tomb is located, Jardines de Montesacro. People often visit his tomb and write messages for him.


The Pablo Escobar tour in Medellin ends visiting the Pablo Escobar neighborhood(Barrio Pablo Escobar). The neighborhood includes 800 houses .


Our comuna 13 graffiti tour offers a view through Medellin's transformation over the last 20 years. We'll go by the surroundings of the Comuna 13, previously known as one of the most dangerous neighborhoods in the world; 
Medellin nowadays, is full of urban artistic expressions and that's why the local authorities declared the urban art as city's icon. One of the most important is graffiti, not only for its artistic components and strong culture but also as cultural expression. We´ll visit graffiti artists, hip-hop singers and dancers who send their peace messages through music, education, graffiti, breakdance and vinyl. These artists are 90% responsible for the graffiti's you'll see at the Comuna 13 tour.
Another place of interest at the Comuna 13 are the first public and free electric escalators, located at the Las Independencias" neighborhood. These are an icon of social urbanism for the Local Administration. This avant-garde project is the first social urban mobility system of Colombia and the world, replacing 350 concrete steps and benefits 12,000 citizens living in that place of the city. A total investment of $10'000.000.000 COP.
Read more
Show less
Medellín
Choose the type of activity you like
Collections
This experience is part of these collections