3-Day Melbourne to Adelaide Small-Group Tour via Great Ocean Road & Grampians
Starting from
€245
viator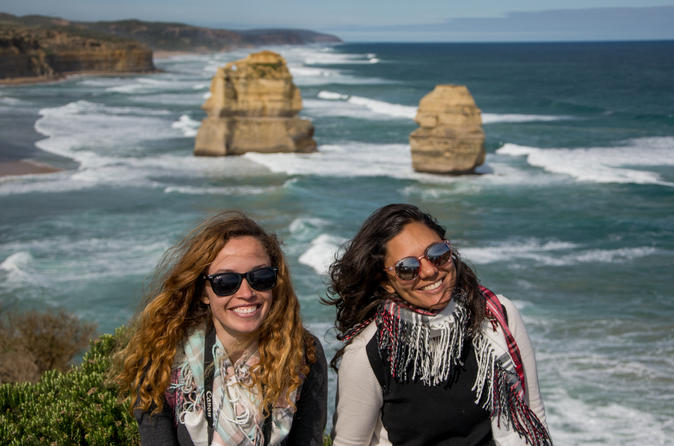 Options
Description
Day 1 - Great Ocean Road (L):
Surf Beach - See the famous surfing beaches on the Surf Coast and get some sand between your toes.
Rugged Coastal Views - Twist and turn along the Great Ocean road, with breathtaking views of the ocean and legendary drives.
Historic Memorial Arch - Commemorating the workers who built the road by stopping for a photo.
Seaside Towns - Feel the vibe of quaint small coastal towns.
Kennett River - Spot wild Koalas, Kookaburras, Parrots and Lorikeets in the eucalyptus trees.
Lunch - Enjoy a picnic lunch in Apollo Bay
Rainforest - Embark on a guided bushwalk in ancient Otway Rainforest with some special flora and fauna.
Twelve Apostles - View the magnificent 12 Apostles from multiple vantage points.
Loch Ard Gorge - See the towering limestone cliffs as you step down onto the beach below.
Overnight stay in Warrnambool
Day 2 - Warrnambool & Grampians National Park (B, D):
Warrnambool Clifftop Coastal Walk - Look for seals as you embark on a relaxed walk along the coastline.
Whale Watching - From Logans Beach as they migrate the Southern Coast of Australia (Jun to Sep).
Tower Hill National Park - Victoria's first 30,000 year old extinct volcano. Land of the local Koroitgundidj people home to an abundant of wildlife, such as Koalas, Emus, Kangaroos, Magpie Geese, Echidnas and waterbirds.
Mount Rouse - Take a walk to the very top of this extinct volcano and enjoy spectacular views of lava fields. 
Halls Gap - Arrive to Halls Gap for lunch at one of their cafes or restaurants. Try a classic Aussie pie or a traditional gellati.
Brambuk Aboriginal Cultural Centre - Learn the history and culture of Jardwadjali and Djab Wurring Aboriginal tribes. 
The Pinnacle - Explore the massive sandstone outcrops and eucalypt covered slopes with a 2 hour long hike to the Wonderland Range of the Grampians and Wimmera plains. Sturdy hiking shoes recommended.
Aussie BBQ - Help to cook a true blue Aussie BBQ dinner in the Grampians.
Overnight stay in Grampians
Day 3 - The Grampians National Park (B):
Tour the Grampians - Home to the Kangaroos, Wallabies, Koalas, Emus, Birds, Echidnas and many other Australian creatures and plant life. 
MacKenzie Falls - Embark on a walk to the base of the beautiful McKenzie Falls to cool off.
Boroka Lookout - See the most scenic view of the Grampians as you gaze over Halls Gap and Lake Lonsdale.
'Jaws of Death' - A gentle walk through a stringy bark forrest before stepping out to view the geological wonder known as the Balconies or the Jaws of Death.
Adelaide - Make the journey on to your next adventure in Adelaide.
 *At times a public coach transfer may be used for pax going through to Adelaide.
Read more
Show less
Melbourne
Choose the type of activity you like
This activity is part of some collections
Click to see similar products in the collection
You may also like
Click to see similar products in the collection