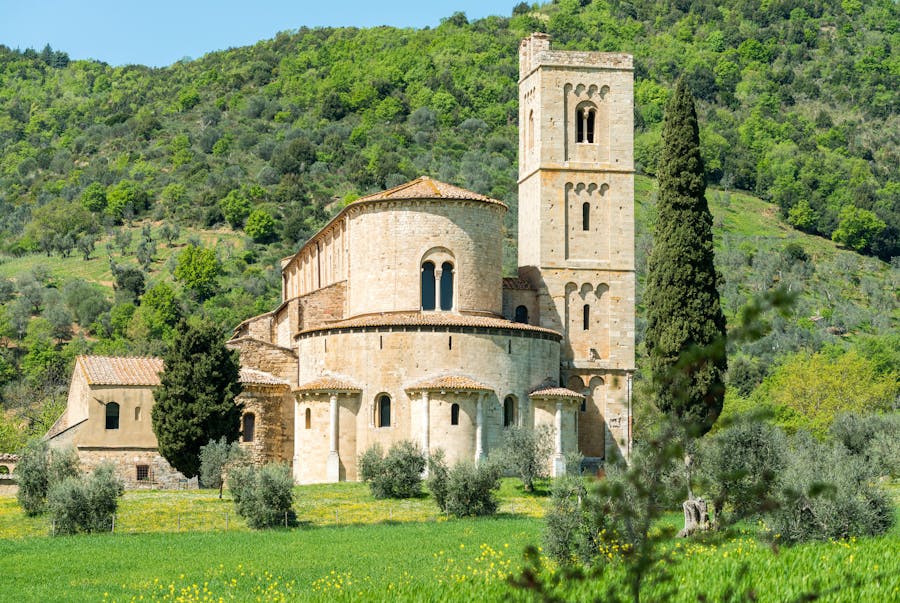 Tickets with videoguide to the Sant'Antimo Abbey in Montalcino
About this activity
Sant'Antimo is an ancient abbey, inhabited by Benedictine monks over the centuries; a real medieval jewel located just a few kilometers from Montalcino. According to tradition, the church was commissioned by Charlemagne, who, after stopping in the Val di Starcia on his return from Rome because of the danger of a plague epidemic, vowed that this scourge would cease and, by the grace received, founded the Abbey.
Solitary and majestic, the monastery is surrounded by four hills that make up the Valley of Starcia. Below the altar is the crypt, and behind it you will find a wooden Crucifix from the second half of the 12th century, while along the right wall there is another wooden sculptural group depicting the "Madonna with Child in Throne" from 1260.
Discover the Benedictine Abbey thanks to the interactive videoguide. You can retrace the spiritual itinerary of the ancient pilgrims, discovering the symbolic meaning of the church's architectural and decorative elements. The videoguide will enrich your visit experience thanks to multimedia content, music and images.
The videoguided route "The way of light" includes a visit to the Abbatial Church, the Tribunes, the Bishops' Apartment, the Carolingian Chapel and the Cloister. You will admire the nave of the church from the top of the stands and be enchanted by the wonderful play of light that the sun's rays create between capitals and columns. The route ends with a visit to the Carolingian crypt and with the discovery of what once overlooked the cloister.
Also in the village of Castelnuovo dell'Abate (just 20 minutes walk from the Abbey) is the Foresteria di Sant'Antimo where you can stay overnight, with 20 beds available, including ammenties and kitchen.
Read more
Show less
Similar activities in Montalcino
Click to discover other experiences