Tour to Tv Tower Ostankino and VDNKh in Moscow Russia
Starting from
€491
viator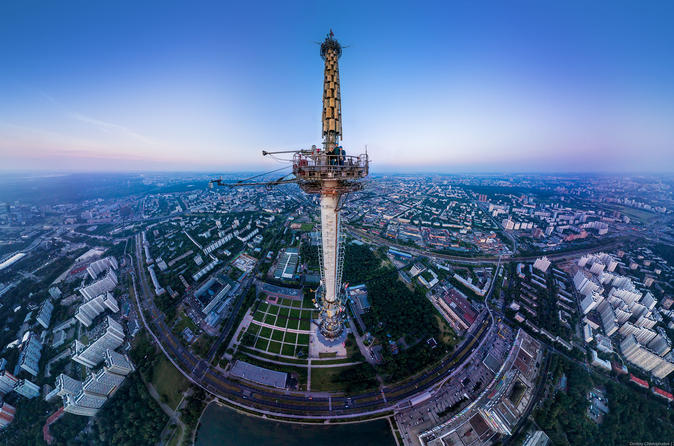 Description
Ostankino Tower is a television and radio tower in Moscow, Russia, owned by the Moscow branch of unitary enterprise Russian TV and Radio Broadcasting Network. Standing 540.1 metres (1,772 ft) tall, Ostankino was designed by Nikolai Nikitin. It is currently the tallest freestanding structure in Europe and 11th tallest in the world. The tower was the first free-standing structure to exceed 500 m (1,600 ft) in height. Ostankino was built to mark the 50th anniversary of the October Revolution. It is named after the Ostankino district of Moscow in which it is located.
Construction began in 1963 and was completed in 1967. Extensive use of prestressed concrete resulted in a simple and sturdy structure that was a masterpiece of Soviet engineering in the time period it was built. It surpassed the Empire State Building to become the tallest free-standing structure in the world
Vystavka Dostizheniy Narodnogo Khozyaystva (VDNKh) 
This magnificent park in the north of Moscow features more than 250 Soviet-era palaces and pavilions, arches and fountains, a Vostok rocket and Soviet aircraft. The Soviet name VDNKh is an acronym meaning "the Exhibition of the Achievements of the National Economy".The area of this complex is greater than that of the Principality of Monaco; it is like a fantastic town with its own avenues, squares and gardens.
The park was built during Stalin's time. Construction started in the 1930s, and in 1954 the exhibition complex acquired the architectural works we see today. Created to be a showcase for the achievements of the Soviet empire, VDNKh had pavilions dedicated to a particular industry or a field (engineering, space, atomic energy, the people's education, Soviet culture and many others). There are also pavilions representing the various Soviet Republics, with each boasting a unique architectural design. Walking around the people's friendship fountain, visitors could have an imaginary trip around the whole Soviet Empire. One of the most beautiful pavilions is that belonging to Uzbekistan, distinguished by the airy elegance of its eastern architecture.
Read more
Show less
Moscow
Choose the type of activity you like
This activity is part of some collections
Click to see similar products in the collection
You may also like
Click to see similar products in the collection