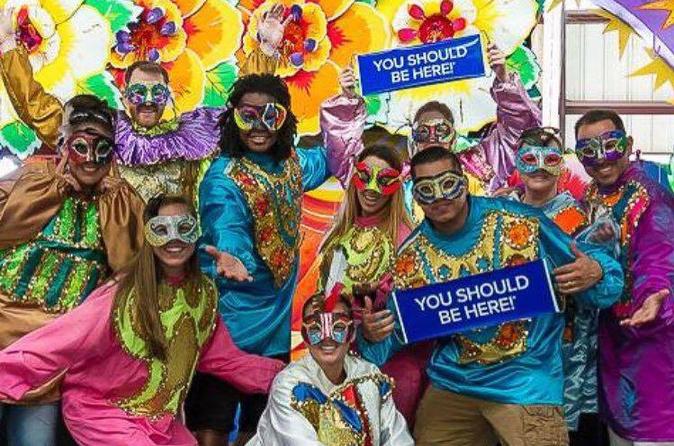 Description
Drink your way through one of the oldest, most cultured and historic neighborhoods in the United States on this innovative, interactive tour complete with stories of New Orleans history, dark history, legends of ghosts, voodoo, and vampires, comedy, and, of course, drinks!

Follow the guide through the magical streets of the Vieux Carre and visit historic and cultural landmarks. Guests will visit the exact location where the Louisiana Purchase was signed in 1803. Visit the famous St. Louis Cathedral in Jackson Square and many more places that played a vital role in New Orleans history. Of course no New Orleans tour would be complete without some stories of Voodoo, Ghost & Vampires.

Before this tour ends, you will know where to find the most predictable ghost in New Orleans. Guests will also visit the most haunted house in the city. Guests will visit multiple locations where vampires have been seen & the police have documented sightings of them on a regular basis. Have you ever wondered about the practice of Voodoo in New Orleans? This tour explains how voodoo came to New Orleans. Learn about the Voodoo Queen Marie Laveau. Guests will even visit property given to her as payment for her magic. Guests will visit locations where Voodoo ceremony's were held. 

During the course of this tour, guests will have the opportunity to check out some of the neighborhood's friendliest and most historic bars. The French Quarter is home to over 200 bars. Needless to say, this tour passes a dozen bars at every turn. With that being said, guests are welcome to stop in and refill their to go cup (tour guide does not go inside the bars). This tour allows guests to drink throughout the tour through the French Quarter. The stops to get drinks refilled is offered as a courtesy and is intended to add to the experience for guests. 

Boozers, history buffs, and paranormal enthusiasts alike are sure to have a blast on this walking tour. This tour is a memorable experience. Rewrite history by putting your own spin on some of New Orleans most talked about historical events and haunted locations. 
A real EMF Meter - Ghost/Paranormal Detector will be used during this tour.
Read more
Show less
New Orleans
Choose the type of activity you like
This activity is part of some collections
Click to see similar products in the collection
You may also like
Click to see similar products in the collection