Oahu Snorkel Cruise: Swim with Dolphins and Turtles in the Wild
Here's what your day will look like with your tour crew: This fun and exciting group of crew members are the reason why this local operator is one of the best dolphin tours in Hawaii. These people have a true passion for the sea and show you the true Aloha spirit. All crew members are CPR/First-Aid certified. And also some of the best hula-hoopers and ukelele players on the entire island.

Before you see the dolphins, your group will all take part in the E'Hoi Mai Ceremony, a traditional song written by Edith Kanaole, a well known Hawaiian singer and cultural icon.The song's meaning proclaims hope that all things return to their original shape, and prayers from the Heavens. The group sings this song and present flowers for a safe journey through the waters and to meet the beautiful dolphin counterparts.

Most of the dolphins you will encounter in this region are the slightly smaller; Spinner Dolphins. They get this name from the way they jump out of the water and spin in the air.They will allow you to swim close to them if you approach slowly and don't try to touch them. Follow your tour guides to see as much as possible.

After swimming with the dolphins, you will move to a location where lots of tropical fish and sea turtles gather. A lot of colorful fish will come to greet you. You enjoy the fish, and we will take amazing pictures for you. Also enjoy swimming with some of Hawaii's friendliest sea creatures. The Honu, or the Hawaiian Green Sea Turtle, is a gentle gliding beauty.

Observe the beautiful and colorful tropical fish and turtles in their natural underwater habitat. Your vessel will have on board, kayaks, paddleboard, and a custom water slide for your added pleasure.

While you play in the water, the Captain will grill you a special Hawaiian cheeseburger. Check out the purple Hawaiian Taro bread and fresh pineapple. Mmmmm Ono! (Ono means delicious in Hawaiian) Mahalo Cpt!

After the tour concludes your captain will guide the ship back to your original departure point.
Details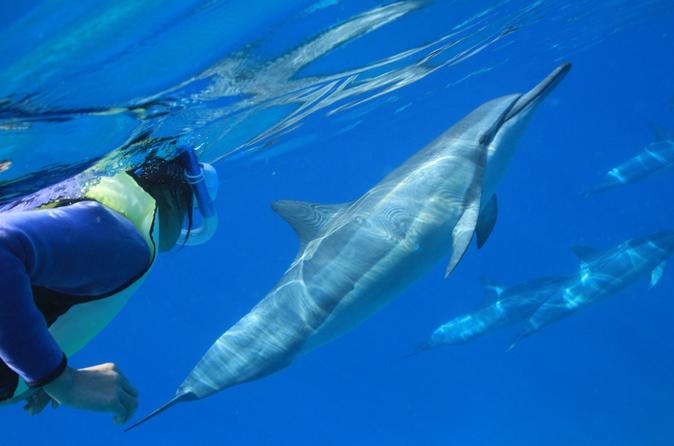 Similar activities in O'ahu