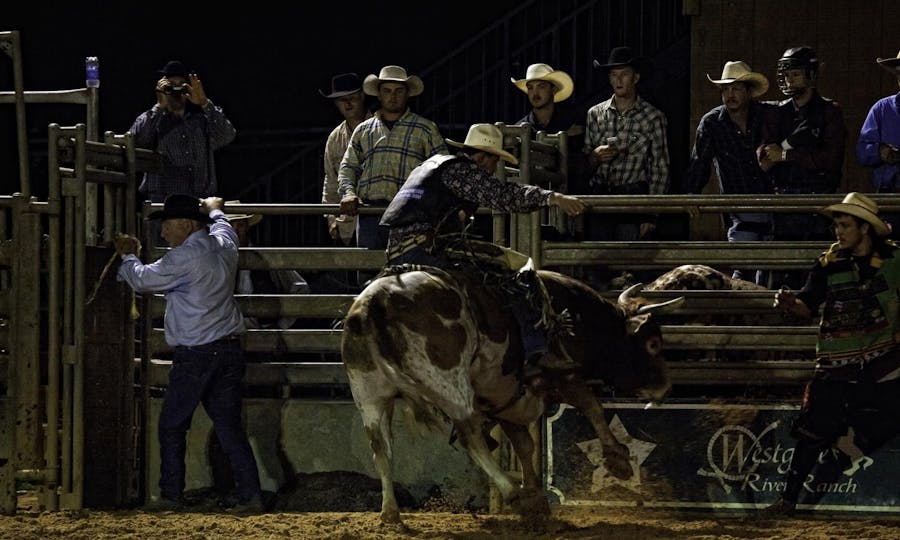 Real Rodeo Western Ranch Adventure
About this activity
Enjoy a fun and relaxing evening at a dude ranch in Southern Osceola County, where the American Cowboy originated. You'll be taken to the ranch for a BBQ dinner at the East Corral. It's a family-style cookout buffet with mouthwatering dishes such as barbecue chicken, hot dogs, corn on the cob, fries, baked beans and soft drinks.
Next you'll get to go on an old-fashioned hayride from Westgate River Ranch through the 7,000-acre Kissimmee Island Cattle Company Wildlife Management Area. It's a 45-minute hayride in a massive area where typical wild animals roam. If you're lucky, you might be able to catch sight of white-tailed deer, bald eagles, wild hogs, hawks, sandhill cranes, wading birds, cows, bulls, alligators and wild turkeys.
After the hayride, you'll head off to the rodeo where daring cowboys test their mettle by riding tough bulls. In this exciting area, eight seconds become a heart-stopping eternity of entertainment and unpredictable danger! Aside from traditional bull riding, the rodeo features crowd favorites such as trick riding, calf roping, barrel racing and a patriotic tribute to American armed forces. Children attending the event can participate in a real "calf scramble" where boys and girls try to remove a ribbon from a calf's tail. The first one to get the ribbon receives a prize!
Once the rodeo's over, you can try to handle the mechanical bull. If that's too much, why not get your feet stomping at the lively dance party? Adults and kids can sing, dance and compete in games while the DJ keep you entertained with tunes such as the "Macarena," "Electric Slide" and even "Cotton Eyed Joe." Your Saturday nights will seem boring and drab after a rocking ranch evening like this!
Read more
Show less
Features
Tourism
55%
Original
50%
Cultural
45%
Collections
This experience is part of these collections