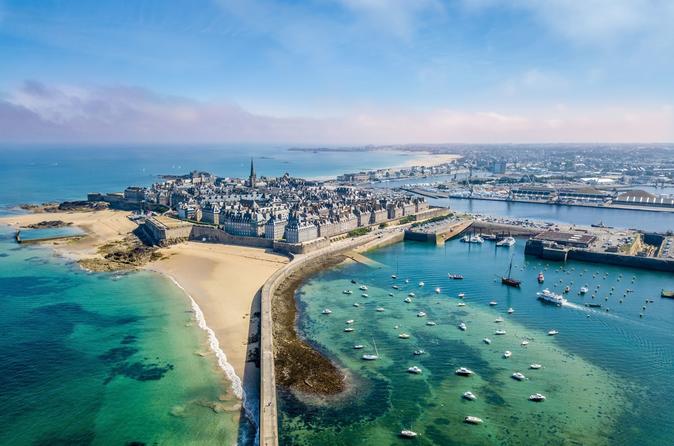 2-Day Normandy, Saint Malo and Mont St Michel Tour from Paris
About this activity
Day 1: Paris — Rouen — Honfleur — D-Day Beaches — Caen (D)Board the luxury coach in central Paris and leave the hustle bustle behind as you travel through the Normandy countryside. Your first stop is Rouen, the capital of the region. This historic city was once one of the largest and most prosperous cities of medieval Europe, and a capital of the Anglo-Norman dynasties.
Hop out for a walking tour of Rouen's top sights, including impressive Rouen Cathedral and the site where Joan of Arc was executed in 1431.
Continue your tour to Honfleur, known for its picturesque old harbor captured countless times by the famous Impressionist painters, including Claude Monet. Tour the charming old town and have free time for lunch (own expense).
In the afternoon, head to the beaches of Normandy, where the D-Day landings occurred during World War II. Hear stories about the Allied invasions of German-occupied France as you visit Omaha Beach, one of the most difficult landing sites. Visit the Normandy American Cemetery and Memorial, overlooking the sea, where you can pay your respects to the fallen soldiers of WWII.
Make a short stop in the coastal city of Arromanches, another D-Day site, before continuing to the city of Caen for a group dinner and an overnight stay.
Overnight: 3-star hotel in Caen
Day 2: Caen — Saint-Malo — Mont St-Michel — Paris (B)Enjoy a buffet breakfast at your hotel before embarking on the second day of your tour. Venture to the heart of Brittany to your first stop, the walled port city of Saint-Malo. Take a guided walking tour along the ocean-front ramparts, and visit Saint-Malo Cathedral. Enjoy free time for lunch (own expense).
Your 2-day tour culminates with a visit to one of France's most iconic attractions, Mont St-Michel, a historic abbey situated amidst a vast bay. Walk up the hilly village for a guided walking tour of the fascinating 8th-century Benedictine abbey, founded as a monastery by Archangel St Michael. Learn about its history, architecture and many uses over the years, including a prison, a castle, a strategic fortification and a major cultural and pilgrimage center during the Middle Ages. Today it is a UNESCO World Heritage site.
At the top of the hill, enjoy views over the bay, and don't miss the amazing spectacle of the tide coming in and surrounding the entire island! Follow your tour with free time to explore and shop around the village.
At the end of the day, hop back on the coach and relax on the drive back to Paris, arriving at night.
Read more
Show less
Included
Professional guide
Transport by luxury air-conditioned coach
Entrance fees
Meals as per itinerary (B=breakfast, L=lunch, D=dinner)
Overnight accommodation in a 4-star hotel
Porterage service
Souvenir from Normandy
Hotel pickup and drop-off (if option selected)
Additional
Confirmation will be received within 48 hours of booking, subject to availability
This tour is not recommended for passengers with walking difficulties, as the climb to the Abbey at Mont St-Michel has many steps
There is a maximum of two people per room. Separate bookings should be made for each room required.
There will be a short stop on the way back to Paris
Reviews
Well planned,well organized, and well executed. The best part of our trip was Dominique, our guide, who was incredibly meticulous about the details and getting everyone around to everything. She was an endless source of knowledge about all of the places we visited and offered such great explanations about everything. I was concerned beforehand that we would feel rushed, but we had plenty of time to see what we wanted to. I was a little disappointed about not spending more time in Normandy, and not having time to see a museum there.Wonderful overall experience though.
Our guide was very hard to understand and said "eh" at the end of every sentence. We had very little time at the WW2 sites that were of interest to us. We stopped for 10 minutes at Omaha beach and weren't given any information or history about the events that took place there. Overall very rushed in the places that were of interest to us with very little information about the places we stopped in.
It is a packed two days, but nicely laid out. Wonderful trip through history. Easier to take a tour than navigate all the places via rail or car.
We thoroughly enjoyed the tour. Very well organized, our guide Veronica was amazing, knowledgeable enough to teach French history. Our driver was very skillful, lots of narrow village roads.Dinner was OK, tiny portions, both my husband and our table mates were still hungry. Breakfast was much better.The woman at check in counter in Paris very rude.
The most important part of reviewing a trip is not about the attractions, but about the experience; and our experience was pretty bad this trip. The guides were one of the main problems. A great guide can make history come alive, and make you feel like you are a part of that history. These were not those guides. Our main guide, Veronica, was like that one teacher that puts you to sleep in class. Often times she during tours we would get basic insight into the various landmarks we would visit, but not much else. Compounding this issue was her tendency to say "eh?" at the end of every sentence. To make matters worse, she would often walk off on her own without accounting for the group. During our trip to Honfleur for instance, we became separated from her along with half of the other folks in the group. We all ended up going in separate directions trying to find her, while her monotone voice flitted in and out of range of our headsets! We ended up joining the other guide's tour, who was more lively, but about 10 times ruder. I saw her snip at three or more people during the time we were on the two day trip, including my father. Instead of "eh?" this guide would say "voila!" during every sentence, as if she was performing constant magic tricks. I understand that English is neither of these guides first language, but they were difficult to listen to. Neither guide would stop to allow the group to ask any questions at all, and on the rare occasions someone did ask a question, neither guide would repeat that question to the group and instead answer the mystery question over the headphones. The schedule was the other main issue. Spots like Honfleur and Saint Malo were given too much time and were mainly filler; the guide would only spend about 20-30 minutes with us and then let us loose for lunch. This was a problem in Saint Malo since barely anywhere was open for lunch until about 45 minutes after our guided tour. The places that demanded more time, like Omaha beach, got 15 minutes of time with no real tour. The graveyard at Normandy was such a short stop that I did not have time to walk to the end of it. On the plus side, the hotel we stayed at was recently renovated and very accommodating. The breakfast there was excellent with bacon, sausage, eggs, crossaints, and juice. Even if for dinner we could not agree whether the mystery meat we were eating was pork or chicken.Overall we would not recommend this tour.
great trip... comfortable bus and accommodations. Informative guide. All transports on time. Highly recommend.
Long days but guide and drivers were very good. Guides tend to walk to fast.for older folks. Very educational. Loved Normandy and it's villages. A little tiring but enjoyable.
Collections
This experience is part of these collections