 Full-Day Pattaya Island and Snorkeling Cruise with Lunch
About this activity
Our driver will pick you up from your hotel or accommodation around 8am and head to Ocean Marina Yacht Club. Embark on our catamaran and depart to Koh Pai for swimming, fishing and relaxing on the beaches.

The Serenity's motorized dingy is available to take passengers to-and-from the yacht whilst snorkelers are encouraged to launch off the vessel to avoid the lurking sea urchins. Following approximately 2 hours of unabated frolicking in the sea or relaxing on the boat and beach, an extravagant Thai style BBQ buffet is provided by the yacht's helpful staff before the tour departs for the Island of Koh Rin.

After lunch, we will continue to Koh Rin, one of Pattaya's best dive sites and features underwater canyons and swim-throughs. The site has excellent visibility and some splendid corals. Most people approach the site as a day trip from Pattaya. Marine life includes moray eels, squirrelfish and lionfish. This is a shallow dive but probably best left to intermediate level divers (although it is a great site for snorkeling).

Next stop on the tour is the island of Koh Ped literally translated as Duck Island, although there is not a duck in sight there are monkeys abound. Koh Ped or perhaps more appropriate, Koh Ling (Ling meaning monkey) has a resident population of Thai Samae monkeys, but once again no human inhabitants.

Following the feeding of the monkeys on Koh Ped the Serenity begins its homeward bound journey to the Ocean Marina passing the scenic beaches of the Sattahip region and Bang Saray to conclude the fun filled day of island explorations. At around 4pm, we depart from Koh Ped back to Ocean Marina and our driver will send you back to your hotel after a wonderful trip.
Read more
Show less
Included
National Park fees
Beverages, snacks and Thai buffet lunch
Use of Snorkelling equipment
Hotel round-trip transfer by air-conditioned minivan
Not included
Alcoholic drinks (available to purchase)
Personal expense
Additional
Confirmation will be received within 48 hours of booking, subject to availability
Please bring extra clothes to change if you go snorkeling, sunscreen, hat and camera
Children must be accompanied by an adult
Reviews
This Cruise, by far the very best cruise my wife and family has taken. It was a 7 1/2 hour cruise to 3 islands. Swimming, snorkeling, fishing. I caught a small fish. At the bottom I will rate each part of this cruise.It is more than advertised in my book. The host was a young man from I believe Kazakhstan. His English is very good and speaks some Thai. The Yeaht we were on looked brand new but he told me it was one year old. The Yeaht number was Serenity 5. There were 2 other Yeahts that sailed not far from ours. # 7 and #73. One was 5 years old the other 15 year. It looked toMe like #73 might be the older one but I cannot be sure.The Yeahts are all white and in outstanding condition. I am guessing but there looked to be maybe 20 passengers and a staff of maybe 6 or 7. Plenary of cold bottled water and soda to drink and sweet waffle cookies to nibble on until the BBQ lunch was served. I could go on and on but the cruise is well worth the price. My rating for this cruise 1 being the worst and 5 the best.Yeaht: I rate it at a 6, yes it is above the best.The host: 6.The staff: 5.The drinks: 5The BBQ lunch: 4 (the food was very good and more then needed, but the fruit was limited to very sweet pineapple and just satisfactory watermelon. I think they should have w wider variety of fruit, grapes, bananas, etc...The islands:1st islands: 4 - we were there for about an hour. The water very warm and clean. It had white sandy beach and rows if beach umbrellas, but we were not allowed to use the umbrellas. 2nd island: 4 - we were there for 50 minutes. The beach had white sand but some debris, Drift wood, plastic water bottles. I cannot blame the cruise company as many companies stop there. 3rd islands monkey island: - 5 - we were there for maybe 45 minutes. Monkey island was just as advertised but more. For my family this was a more than we expected. The host was with us, stuck close to us all and gave everyone food to feed to the monkeys. He advised everyone to always keep food for the monkeys in an OPEN hand. DO NOT HOLD ANY FOOD WITH A CLOSED FISTED HAND. The monkeys may hurt or bite to get to the food. Monkeys were very aggressive. They jumped on my shoulders 2 times and my wife too. We had no food, they were just trying to see if we had anything. They jumped off as quick as they jumped on. My wife screamed and the monkeys jumped off quickly. The monkeys were only hungry. They did not bite anyone but we were told they might if you hit them or keep food in a closed fisted hand. Some passengers seemed ok with the monkey on there shoulders or back. Some passengers stayed on the boat. Me and my family went back to the Yeaht early while others stayed an fed the monkeys. I rate this island a 5 because it is as advertised and more. Note: No shoes are worn while on the boat. The collect your shoes and stow them until monkey island. I suggest that you only wear rubber flip flops to the boat or bring an extra pair and keep them in your bag. Island 1 and 2 have some area that are a little difficult to walk on. You do wear shoes to monkey island. Also I saw NO sea urchins at all. If find one don't step on it. They can be painful. Wow, I could go on about this cruise but this is enough.
No one from viator customer service responding.please contact
Similar activities in Pattaya City
Click to discover other experiences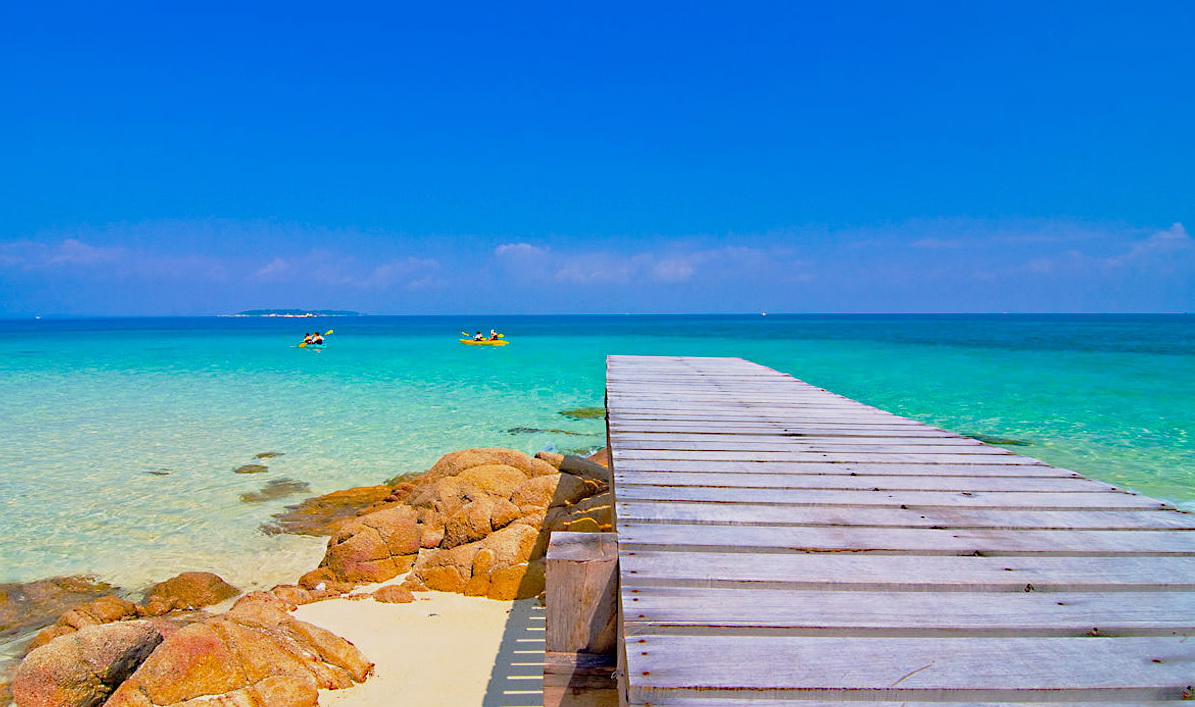 Coral Island Snorkeling Tour Pattaya - Full Day Snorkeling