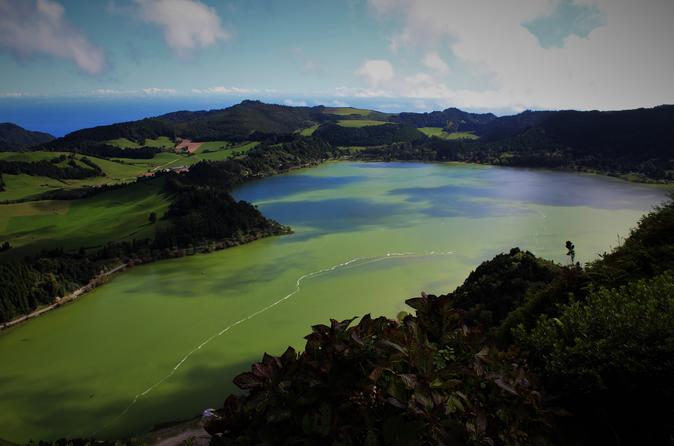 Options
Description
Itinerary
9:00am
Pick up in Hotel or in city center
9:30am
Port of Caloura Located in the village of Agua de Pau (Lagoa), and for us a compulsory stop, by virtue of being in direct contact with local fishermen and the sea of Azores, while enjoying all the beauty around us. Surrounding, situated in the area of the freshman, in this stop we will be able to enjoy part of the oceanic coast of Sao Miguel.
10:00am
Beach Baixa D'Areia: also located in Caloura, a simple beach, but very beautiful, because of varied colors that the sea offers.
10:30am
Miradouro do Pisao: In this viewpoint, we observe a higher point of view, the whole area of Caloura, especially a different look to the port of Caloura.
11:00am
Miradouro lheu de Vila Franca: The islet of Vila Franca, and a small island which is in Vila Franca do Campo, whose islet and uninhabited, but in the Summer and used by the islanders as well, by visitor, due to its unique characteristics, for those who enjoy the beach.
12:00pm
Furnas Lake: mandatory stop because we can closely observe the very lake, and all the trees around them, and and this stop we can see where the famous cooked and cooked Furnas.
12:30pm
Caldeiras das Furnas: located in the town center of Furnas, where we can observe several boilers with boiling waters of volcanic origin, in particular attention to the Pero Botelho boiler, beyond the visitors boilers, we note various sources of water with different flavors in particular to sour water source.
01:00pm
Lunch Time
02:00pm Relaxing Time -
Thermal bath in the pool's of the Dona Beija: this is a small complex compost with 4 little pools, comprising several eras of hot water that most of the time the temperature of their waters is 39 degrees or visit, one the most beautiful Garden's on the island, the Botanic Garden Terra Nostra.
3:30pm
Miradouro Pico do Fero: Viewpoint which has a magnificent view over the valley of geysers, from which one sees all the lush vegetation around it ... When the weather help, sometimes we can catch sight of the island of Sta viewpoint Maria.
4:00pm
Gorreana Tea Factory: Located in Gorreana, when approaching the manufactures we can see the plantation of there existing tea, in the factory, we can make a guided tour of the factory, get to know all the elaboration process and tea at the end of the visit we taste the black or green tea.
4:30pm
Miradouro Santa Iria: Viewpoint to the north coast of the island of Sao Miguel, on this site, we can see much of the north coast and the three mountain ranges that composes the island of Sao Miguel (Seven cities, Pico da Barrosa and Vara Peak ).
5:30pm
Drop off or Hotel City Center
Read more
Show less
Ponta Delgada
Choose the type of activity you like
Similar activities in Ponta Delgada
Click to discover other experiences