Patagonia Small Group Mountain Bike Tour from Punta Arenas
Starting from
€153
viator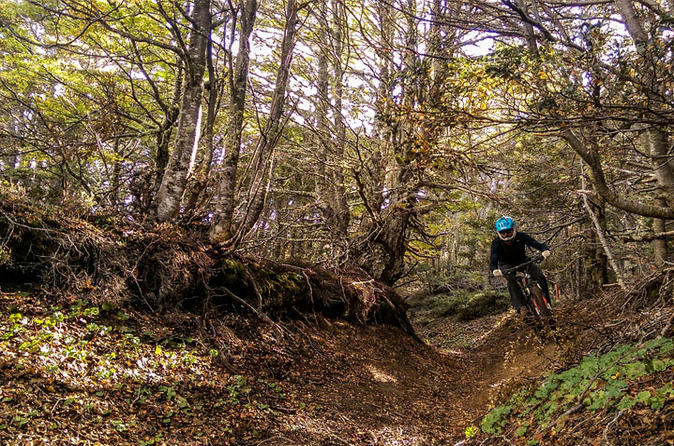 Options
Description
MTB Full day in Punta Arenas
Our MTB full day in Punta Arenas, is certainly a Patagonian experience, where you can enjoy everything that this beautiful area gives us, from protected forests , unique trails, outstanding views and a very special climate will accompany us douring our adventure.
Our trails are located next to the city, one of the advantages of this place is that to start riding toward forests is not farther than 20 minutes from the Port.
After picking you up and drive where our ride begins , we will have a short but important technical talk , we will set up our bikes and equipment for maximum comfort , to enjoy our adventure.
Our tour can be divided into 3 areas, La Araña trail, Reserva forestal Magallanes Area and the ski center, each trails offers different soils, views and abilities.
We start in La Araña trail, an old logging road through lenga and coigue forests, we will ride to the highest point where we have a spectacular view of the Strait of Magellan, Tierra del Fuego Island and the otway sound, this is where we began our first decent, 12 minutes of action and adrenaline between forests, tobogans, magical patagonian colors.
After crossing a small stream we continue towards the reserva forestal Magallanes where we will have our fully energy snack in a protected native forest, here is were we start our way towards the ski center, along the north side of the Rio de las Minas, this It is the most important river of Punta arenas city, this decend will take approximately 20 minutes, where we will make some stopsto apriceiate the spectacular view of the magellanic landscape.
The Punta Arenas skiing center (Club Andino de Punta Arenas) is one of the first ski centers in the country, today continues as conventional installation and is giving way to the development of mountain biking, it has several tracks designed to enjoy this activity in which we have actively participated in the improvement and design.
After a short break we will enjoy the last part of our tour using these southern mountain bike trails .
On our return to the hotel we can recommend a good restaurant or tell you where the services are in the city .
Tour Duration 6-8 hours depending on the pax skils
from Monday to Sunday
Departure time ( depending on arrival time to PUQ ) 8 or 9 a.m.
Read more
Show less
Punta Arenas
Choose the type of activity you like