Small-Group Golden Circle Half-Day Trip from Reykjavik Including Faxi Waterfall and Hveragerdi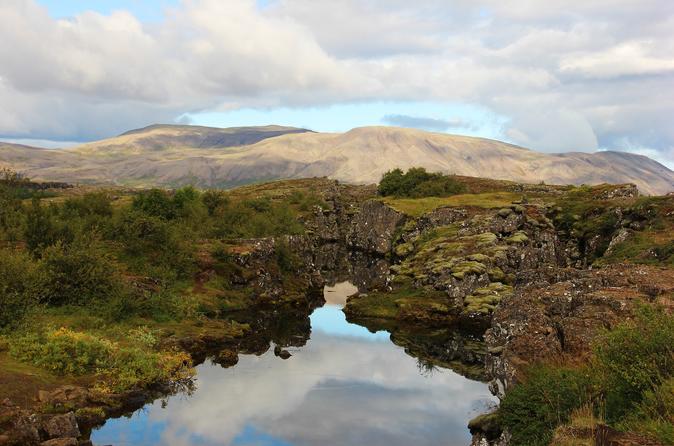 Options
Description
If you're coming to Iceland (or already arrived), chances are you've heard of the famous Golden Circle route. It's pretty much
the perfect day tour
because you´ll see some of Iceland's most famous natural wonders in a 1-day trip.
Þingvellir National Park is a stunning place and is listed as a World Heritage Site
Gullfoss Waterfall is, of course, charming
and then there's Geysir where you´ll walk into a unique geothermal area and see Geysir's brother, Strokkur, spout hot water out of the ground.
The tour:
After pickup in Reykjavik, we head straight to Þingvellir National Park. Your guide will tell you all about the history of the area and show you all the essential spots. You´ll have time to explore, take pictures and hike around a bit.
After that, transfer to Gullfoss Waterfall. There you´ll experience the power of the waterfall. Just close your eyes and listen to it roar. After you take a few waterfall selfies, walk around the area and perhaps stop at the Gullfoss café for lunch (own expense).
Next is the Geysir geothermal area where you´ll see the geyser Strokkur. There you can walk around, take pictures, shop and either explore the area or just relax and enjoy the beautiful surroundings. Your guide will, of course, point you towards everything of interest and help you if you need anything.
Remember, there's free wi-fi on board so you can post your pictures immediately and brag about being in Iceland.
Faxi waterfall, Friðheimar greenhouse, Kerið and the historical site Skálholt are not far apart, and we´ll stop at each one.
Read more
Show less
Reykjavík
Choose the type of activity you like
This activity is part of some collections
Click to see similar products in the collection
You may also like
Click to see similar products in the collection