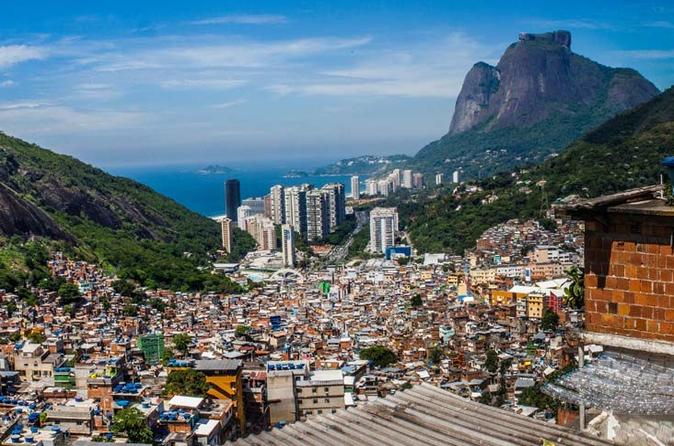 Description
We will take a stroll through the largest slum in Latin America, Rocinha.
Favela da Rocinha is the largest slum in Latin America. Located in the south side of Rio de Janeiro, the community has a great infrastructure to receive tourists from all over the world. Beyond the sympathy of inhabitants, the community also has several social projects and viewpoints for observing the beautiful sight as the beach of São Conrado, Pedra Bonita, Pedra da Gávea and other parts of the city.
After boarding at the touristic area and downtown Rio de Janeiro we introduce the community of Rocinha making stops to know the main natural attractions and cultural community.
Rocinha is one of the main tourist attractions of Rio de Janeiro. Everyday hundreds of people visit the community. Our tour is a very interesting social experiment where the guide will make you interact with residents of the community knowing a bit more of the local culture and diversity. We work in a non-intrusive, respecting the life of the people whose lives in the favela of Rocinha. We focus on a genuine experience that has the goal of educating our customers about the slums that have become such a big part of life in Rio de Janeiro.
We will go through the main viewpoints of the community as the "Mirante Portão do Céu",(Gate of Heaven's Belvedere) which has a beautiful view of Rodrigo de Freitas lagoon, we will walk through the alleys and we will visit the homes of arts and culture of the local artists.
The guide will descant for you about the history of the favela, as well as the social and economical challenges. The main places and attractions visited are: Art Atelier "Gate of heaven", typical Brazilian Northeastern foods, Escola de Samba Academicos da Rocinha, the commercial center of the Rocinha and the Popular Market.
Round-trip transportation to the hotels of tourist area and downtown Rio de Janeiro are included in the tour.
Read more
Show less
Rio de Janeiro
Choose the type of activity you like
This activity is part of some collections
Click to see similar products in the collection
You may also like
Click to see similar products in the collection