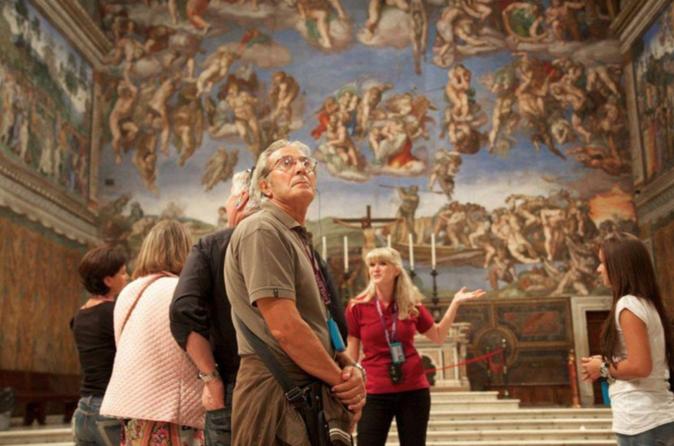 Early Access Sistine Chapel with Vatican Museums and St Peter's Basilica
About this activity
The Vatican is an amazing place to visit, but in the summertime the enjoyment of its many masterpieces can be diminished somewhat by crowding, as on average 20,000 people per day file through the doors to the Vatican Museums and Sistine Chapel.

As an accredited partner of the Vatican Museums, we bring you on this tour into the Sistine Chapel one hour before the doors are opened to the general public. We make a beeline for the Sistine Chapel immediately, to enjoy this greatest treasure of the Vatican in peace and quiet, before returning to the museums for the usual tour, when the general public have been admitted.

The tour begins with the visit to the Sistine Chapel, where you can gasp in awe at the achievements of Michelangelo 5 centuries ago. Silence is observed at all times in the Sistine Chapel, but don't worry - the guide will explain the paintings to you before entering, with the aid of your own individual copy of the artwork.

After the visit to the Sistine Chapel, the tour continues on the usual route through several of the most interesting and beautiful galleries of the Vatican Museums - the beautiful Pinecourt Garden, the Galleries of the Maps and Tapestries, the Belvedere sculpture garden, the room of the Greek Muses, and many more of the treasures and masterpieces that the Vatican holds in its enormous museum collection!

Leaving the museums, you'll enter St. Peters Basilica * (if open - see Note below), without waiting in any lines! Standing beneath Michelangelo's great dome, you cannot help but feel somewhat humbled by the expansive surroundings.

The Basilica features several chapels, and contain numerous statues and mosaic works. Your guide will point out the most important, and leave you with time to look around by yourself. The Pietà, one of Michelangelo's most well-known religious sculptures, is among the highlights of this part of your visit.
Read more
Show less
Features
Cultural
100%
Tourism
90%
Collections
This experience is part of these collections