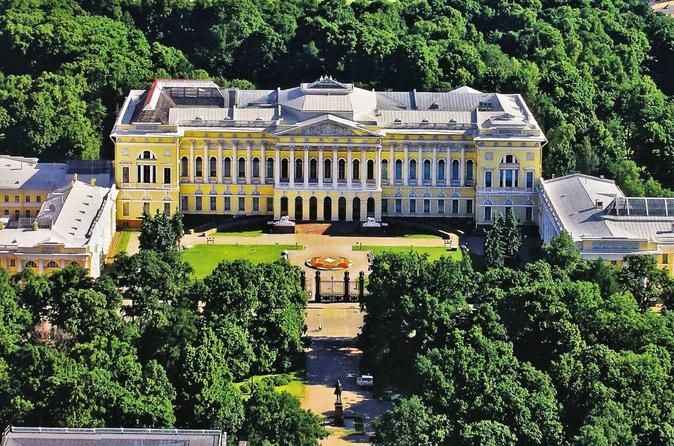 Options
Description
Your private tour will be customized to your preference, and you will see the Palace of your choice: the Mikhailovsky Palace (the main building of the museum complex), the Stroganov Palace, St Michael's Castle, or the Marble Palace. In Europe's classiest capital you can't make a wrong choice.
Tour itinerary:
10am – Your private local guide will meet you in the hotel lobby and discuss the tour itinerary with you at the beginning of the tour. Timing is flexible and you can start the tour any time you prefer. This tour can be customized to make it a unique experience for you. 
10:30am-12.30pm - Explore one of the palaces to explore at the State Russian Museum, a unique historic and architectural complex. 
The Mikhailovsky Palace was built in Neoclassical style in 1820s and is located in one of the finest buildings in downtown of St. Petersburg which used to be the palace of Grand Duke Michail.
Sign up for baroque at the Stroganov Palace, which was built in 1750s in a distinct baroque style. The interiors were constantly reconstructed following changing fashion and the owners' demands. You will see: New Anteroon, Rastrelli Room, Small Drawing Room, Large Drawing Room, Greek Room, Countess Sophia Stroganova's Large Study, Countess Sophia Stroganova's Small Study, Oak Fireplace Study, Main Dining Room, Old Anteroon, Hubert Robert Room, Arabesque Drawing Room, Mineral Study, Count Sergey Stroganov's Large Study, Count Sergey Stroganov's Small Study, and Picture Gallery.
Go for Russian Classicism at St. Michael's Palace (1790s), and explore conflicting architectural trends and features, which makes it stand out in the history of Russian Classicism. See Life-Guard Room, Quarters of Grand Duke Konstantin, Hall of Antiques, Rafael Gallery, Throne and Avant Throne Rooms of the Empress of Maria Fedorovna, Dining Room, The Gala Portrait, the rooms devoted to St Petersburg Society during the Romanov Era, Hall of Antiques, and the Sculpture of the Summer Garden.
The Marble Palace is not only a rare example of early classical style, but also an amazing illustration of natural stone design. The palace exhibits the collection of Russian and foreign art pieces coming from the 20th century.
1pm – Back at the hotel or finishing the tour at Mikhailovsky Garden / Summer Garden.
Read more
Show less
Saint Petersburg
Choose the type of activity you like
This activity is part of some collections
Click to see similar products in the collection
You may also like
Click to see similar products in the collection