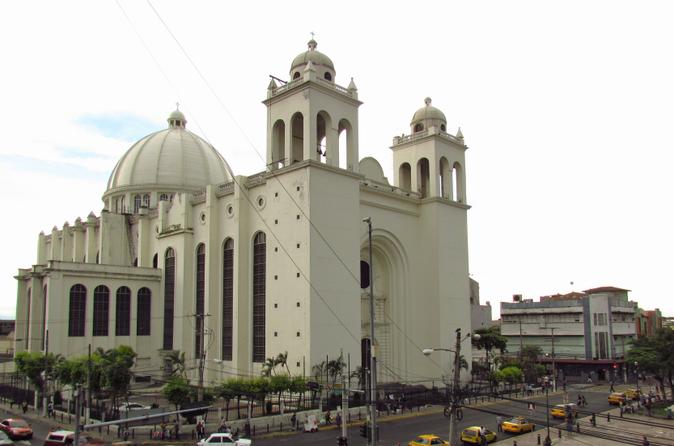 San Salvador
Choose the type of activity you like
Description
After hotel pickup in San Salvador, embark on your morning or afternoon half-day tour, or complete a full-day tour (depending on option selected upon booking). Traveling in the comfort of a private vehicle, chat with your guide about your specific interests. This is your tour, so just let your guide know how much time you want to spend at each attraction.
Half-day option (morning or afternoon):Drive to the historical city center — the country's political, economic and religious hub since the 16th century — to visit the main monuments, avenues and squares of San Salvador, including Plaza El Salvador del Mundo (The Savior of the World Plaza) and Plaza Masferrer, then pass through the primary residential zones of the capital city.
With your guide, stop by the majestic Metropolitan Cathedral of San Salvador (Catedral Metropolitana de San Salvador), twice visited by Pope John Paul II, who knelt by the Tomb of Archbishop Oscar Romero. See the beautiful National Palace of El Salvador, which contains four main rooms and 101 secondary rooms, and admire the characteristic French Renaissance style of the National Theater of El Salvador (Teatro Nacional de El Salvador), declared a national monument in 1979.
After viewing El Rosario Church at Plaza Libertad, site of the Monument to the Heroes (Monumento de los Héroes), your guide takes you to San Salvador's handicraft market, Mercado Nacional de Artesanías. Meander among artisan vendors selling hammocks, textiles, ceramics and other crafts. Then finish at the Municipal Market of Antiguo Cuscatlán — San Salvador's most affluent region — before you're dropped off at your hotel.
Full-day option:In the morning, you'll cover all the places specified above during city sightseeing with your guide plus additional San Salvador surroundings in the afternoon. Stop for a delicious lunch at a local restaurant where you can buy a typical Salvadoran dish like pupusas — thick, handmade corn tortillas filled with a cheese or pork. Not interested in going to a restaurant? Bring your own meal and picnic outside.

After lunch, visit San Salvador Volcano (aka Quetzaltepec and Chaparrastique), a stratovolcano located just 15 miles (25 km) northwest of the city. Here, enjoy a refreshing eco-walk along nature trails and a panoramic view of the impressive crater, which features El Boquerón, a newer volcancito (little volcano) inside.
Before hotel drop-off, your final stop is Santa Tecla, a beautiful city whose antique architectural style has been preserved. Enjoy a private sightseeing tour with your guide around the main streets and avenues, including the famous Paseo el Carmen where restaurants, bars, and cafés are a highlight.
Read more
Show less
Similar activities in San Salvador
See all Must do Experiences in San Salvador