Full Day Suzhou and Zhouzhuang Water Village
Beyond Shanghai lies a new world to explore, perfect for a day trip. Growing fast but maintaining their elegance and Chinese heritage as much intact as possible, local towns such as Suzhou and Zhouzhuang are among the most sought-after escapes when Shanghai has been explored completely. Inside both towns' borders, it is water that rules: appropriately called Venice of the East because of its interconnecting canals and waterways, Suzhou is truly and aquatic marvel. When traveling by boat is your thing, Zhouzhang will not disappoint for one single minute where archways, bricked houses and courtyards bring you back to long-past dynasties.
An early morning pick up is required when both towns are on your wish list. Your guide and driver for the day welcome you at one of Shanghai's 4 hotel concierge desks (transfer from your hotel to one of these pick-up points is not included) as you join other enthusiastic travelers on this exploration of waterways, Chinese traditions and a fun-filled day out and about. First stop of the day is Suzhou, one of the oldest settlements. In the older days, the town has miraculously survived destructive revolutions, which has been a blessing for seeing the immaculate gardens and the waterways still in its original state. During this morning, we enter the compounds of the Master of Nets Garden, the smallest of the Suzhou residential gardens, yet it is the most impressive because of its use of space which creates the illusion of an area that is much greater than its actual size. As the silk industry continues to play an important role as one of the major products from Suzhou, we make a stop at the Silk Embroidery Research Institute and a silk factory en route before moving over to the Grand Canal. The aorta of the Venice of the East gives a peep into local customs and habits as well as an opportunity to enjoy good food while appreciating the surrounding scenery. It is here that we appropriately enjoy a Chinese-style lunch in a local restaurant.
Our driver brings us to Zhouzhuang, a pearl of natural beauty, great architecture and extremely well-preserved since it was constructed more than 900 years ago. The town is located around 55 kilometres southeast of Suzhou with a charming location along the shores of Lake Baixian. A true definition of a water town simply does not exist once you will follow your guide into house and water way territory for a leisurely boat ride before returning back to Shanghai. You and your travel companions will share your memories, ranging from the various courtyards and old brick archways still functioning well in these modern times. Depending on traffic and the location of your hotel, we'd expect to arrive at around 18:00 hrs in front of one of the central meeting points in Shanghai (transfer back from one of these central meeting points to your booked accommodation in Shanghai is not included)
Details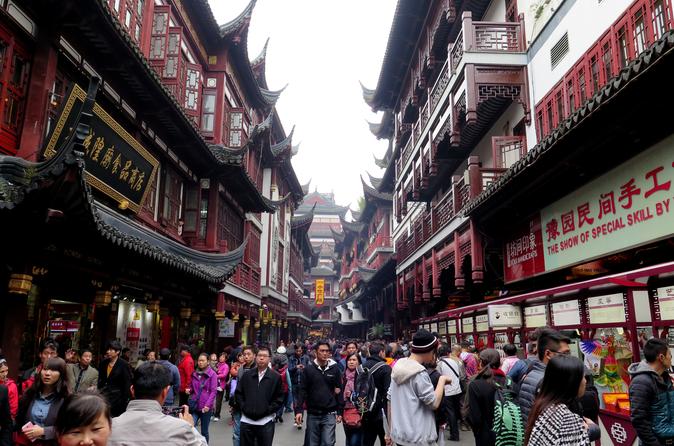 Similar activities in Shanghai