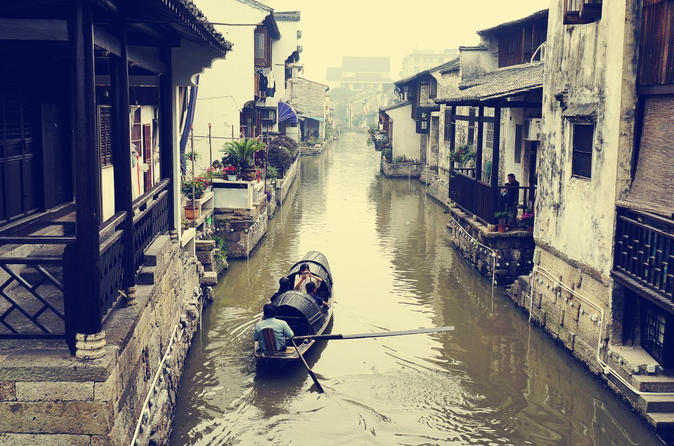 Options
Description
The day begins with pickup from your central Shanghai hotel at around 8:30am. It takes a little under two hours to drive to Wuzhen, famous for its canals and waterfront houses, and make your way to the dazzling old town, where your guide will lead you through some highlights.

In ancient Chinese culture a bed was so much more than just a bed: people sat on them, rested on them, and made them the focal point of daily life. So the first stop on your itinerary is the Ancient Bed Museum, home to antique beds from the Ming and Qing Dynasties to modern times.
Your next stop is the Wine Distillery Workshop. Wuzhen was once home to more than 20 brewing workshops but this is the last remaining winery in Wuzhen. With a history dating back many hundreds of years, the workshop still makes traditional Sanbai rice wine, and you can watch how this full-bodied, soft, yet lingering liquor is produced.
Next, it's time to discover some of Wuzhen's cloth-manufacturing history with a visit to to a traditional indigo dye house, where you can watch all the stages of producing blue-printed fabric, from spinning to weaving to dying. Original Wuzhen cloth is, of course, available to buy.

You'll break for an included lunch in a pretty historic building before your next stop, a shadow puppet show. In this traditional Chinese art form puppets move against an illuminated backdrop to create shadows, accompanied by a small orchestra of Chinese instruments. You'll learn the sound of the erhu, a two-stringed musical instrument played with a bow, and the dizi, or Chinese flute.

Lastly, to appreciate Wuzhen in all its watery glory, enjoy a rowing boat ride down the river. Relax as you enjoy the sights of the old town from its pretty canals and watch locals going about their daily lives. You'll have some free time after this to wander Wuzhen at leisure and see other attractions not on the schedule, before you leave around 4:30pm to return to your hotel around 6:30pm.
Read more
Show less
Shanghai
Choose the type of activity you like
This activity is part of some collections
Click to see similar products in the collection
You may also like
Click to see similar products in the collection