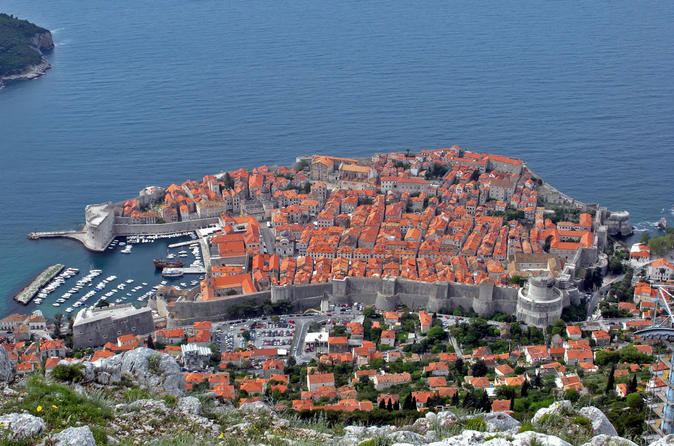 Options
Description
Join the group at the meeting point in Split or Trogir and start your exciting journey towards Dubrovnik and its fortified Old Town which is definitely one of the most visited and photographed destinations in all Europe. Start your tour in a very comfortable air conditioned bus, sit back, enjoy the view at the breathtaking coastal scenery and try to relax while taking in the entire Mediterranean atmosphere. The journey will take approximately 4.5 hours and it will include fantastic photo opportunities and, based on previous agreement with the driver, a chance to stretch your legs.

Once you arrive to Dubrovnik, one of the most outstanding tourist destinations in the Mediterranean, you will explore the city on a walking tour to learn everything about its history, monuments, and why it forms part of the UNESCO World Heritage List. Dubrovnik is famous for its wonderful Renaissance and Baroque architecture, red brick roofs and its two kilometers long walls that successfully resisted the attacks of different enemies through centuries. It is a must-see destination in Croatia.

Explore the Old Town's central street Stradun; the Franciscan Monastery (with one of the oldest pharmacies in the world), the renaissance Rector's Palace, the town walls, the Lovrjenac Fortress and many picturesque squares and churches of this amazing town. This 1.5 hour long walking tour will reveal all the secrets of this amazing city to you, so that you can explore it on your own during your free time in Dubrovnik.

Make the most of your free time and stop by one of the local restaurants to taste some delicious traditional food or to take a ride on the cable car to the top of the Srd Mountain to enjoy the breathtaking view at the old town of Dubrovnik and its surroundings. It is not a bad idea to purchase some souvenirs that will make this journey even more memorable.

When the time comes, join the rest of the group, get back into the cozy comfortable coach and start your journey back to Split or Trogir after a perfectly well spent day in the Pearl of the Adriatic. You will get dropped off at the same point where you were picked up.
Read more
Show less
Split
Choose the type of activity you like
This activity is part of some collections
Click to see similar products in the collection
You may also like
Click to see similar products in the collection