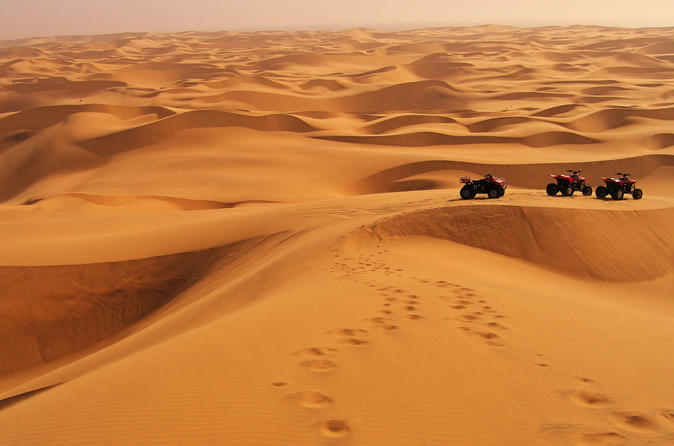 Quad Bike Tour of the Namib Desert
About this activity
After a safety briefing and practice session, depart from Walvis Bay on a powerful quad bike into the Namib Desert with your guide.

Accelerate over sand dunes and meander around the desert canyons that punctuate the barren landscape just outside Swakopmund. The starkness of the plains represents the area's stoic beauty, and your quad bike lends itself to 360-degree views of the surroundings that stretch around you.

Look out for fossils of animal footprints, preserved from a time when the Kuiseb Delta flowed through the now-parched plains, and check out some of the desert vegetation and plants that have adapted to survive the extreme desert conditions. Wildlife such as lizards, geckos, scorpions and snakes are often seen, as are members of the Topnaar tribe — a semi-nomadic group of people who originally settled near the mouth of the Kuiseb River Valley.

In between stops to learn about the desert and the Topnaar people, make the most of your mode of transport, opening the throttle to set off across open flatland and winding your way along the beaten tracks of the desert valleys. Your guide will stay close to you as you ride, offering tips to help you get the most out of your quad bike throughout the session.

As the experience draws to a finish, return to the start point with your guide.
Read more
Show less
Features
Adrenaline
80%
Original
75%
Tourism
65%
Sport
55%