City Sightseeing Hop On Hop Off Tbilisi
Hop on board our open top buses and explore the Georgian lifestyle! Our City Sightseeing tour enables you to see the 11 citys main areas of interest and key attractions including The Old Town, with narrow cobbled streets and traditional old houses with carved wooden balconies where you will find many ancient buildings such as the 13th Century Metekhi Church, Freedom Square, and Rustaveli Avenue. Just hop off and back on again at your own pace!

Tbilisi was founded in the 5th century AD and has attracted visitors ever since, drawn by the hot springs for which the city is named, as Tbili means warm in Georgian. So, are you ready to explore every corner of the fabulous city? Just hop on to one of our open-top buses at Kote Apkhazi Street and we'll take you straight to Freedom Square at Bus Stop 2.

This square is just bursting with historical tales. It was originally named after the Russian Imperial Army General, Ivan Paskevich in the 19th century but with time and the fall of the Russian Empire, it soon gained its new name. The tall, golden St. George Statue in the middle signifies the memory of Georgia's independence, you can't miss it!

Another historical destination is the Rose Revolution Square, at Bus Stop 3, named after the Revolution of Roses in 2003. Make sure you visit the Dry Bridge at Bus Stop 5 and wander around the flea market to fully enrich yourself with the culture. If you fancy a bit of relaxation then take a trip to the Abanotubani where you'll find lots of different spas and Sulphur Baths to choose from, something that makes the city of Georgia very special. What are you waiting for? Buy your ticket online today and get ready for the Tbilisi experience.
Details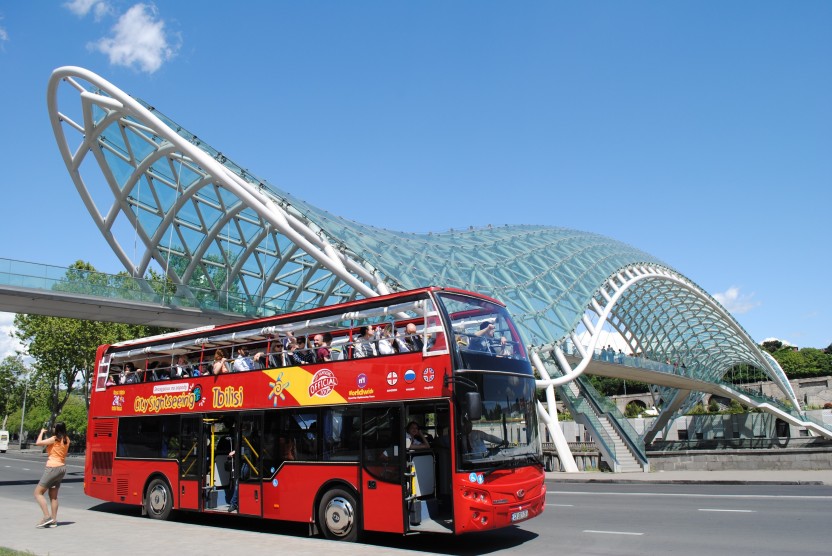 Similar activities in Tbilisi