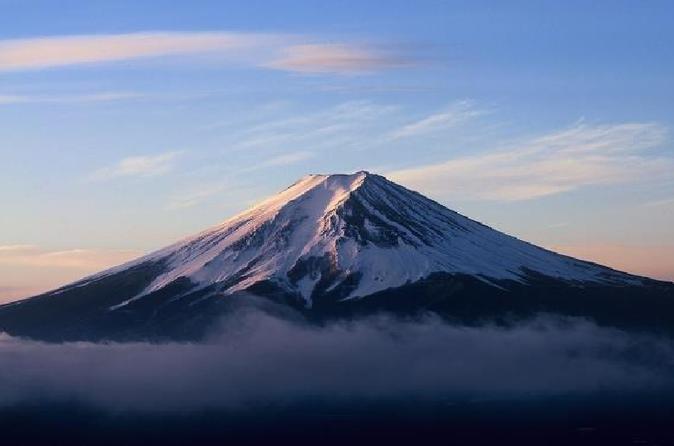 3-Day Mt Fuji, Kyoto and Nara Rail Tour by Bullet Train from Tokyo
3 days
Popular
By train
Multi-Day
About this activity
Your 3-day tour includes all transportation, two nights in Kyoto in your choice of tourist class or first class accommodations, a professional guide in the daytime, and the evenings free to spend at your leisure. Your guide and hotel are happy to offer recommendations for restaurants and other places to see in your free time. Have the option to return to Tokyo late on the third day or remain in Kyoto, the choice is yours.

Occasionally weather conditions at Mt Fuji may necessitate itinerary changes. If an activity is not possible, a substitution will be provided. If any sites in Kyoto or Nara are closed on the day of your visit, a substitute site will be visited. Both cities have a wealth of amazing places to see.
Read more
Show less
Included
3-day bullet train rail tour
2 nights accommodation
2 lunches
Professional guide
Cruise on Lake Ashi
Morning sightseeing tour of Kyoto
Afternoon sightseeing tour of Nara
Hotel pickup (select hotels only)
Luggage delivery (1 piece, one-way tour option only)
Not included
Baggage Handling (round-trip)
Food and drinks, unless specified
Hotel drop off
Gratuities (optional)
Additional
Confirmation will be received within 48 hours of booking, subject to availability
A maximum of 3 people per booking; if you have more than 3 people in your group, please make multiple bookings
Infants under the age of 5 may travel free of charge as long as they do not require their own seat; additional accommodation and meals are not provided
Wheelchair accessible - if assistance is required, passenger must provide their own care
Hotel pickup is only available from select locations in Tokyo. Please refer to "Departure Point" for listed locations
Please note: Make sure you select the correct pickup location at checkout, as failure to appear at the pickup location at the scheduled time and location may result in a cancellation of your reservation with no refund
Please provide the local contact information of your accommodation in Tokyo to the tour operator at least 7 days prior to your travel date so they may contact you for anything urgent; otherwise, your tour operator may reserve the right not to confirm your booking
This tour will depart regardless of weather or traffic conditions, unless you are notified otherwise by the local operator. Viator and your local tour operator will not be responsible for poor visibility of Mt Fuji or itinerary changes due to unforeseen circumstances
Kyoto Imperial Palace is closed on Monday and, if Monday is a national holiday, Monday will be open and the following day will be closed. When Kyoto Imperial Palace is closed, you will visit Kitano-tenmangu Shrine instead. The schedule applies to the period before and after the public viewing of Kyoto Imperial Palace in April and Oct, and the Aoi Festival from May 14-17, as well as other Imperial Household events without notice.
Reviews
This was one of the highlights of our Japan holiday. Communications with the company were excellent and everything was straightforward despite the complexity of several different tours combining throughout the 3 days. The hotel in Kyoto was very good and the vehicles used were comfortable and clean. The guides were all excellent. There was a great deal of walking and no time to wander and browse, but this was inevitable, given the amount of sites that were packed in. We were not expecting to be taken back to our hotel on the last night, but we were and we were very grateful as we were happy but exhausted by then. We highly recommend this tour.
Our first trip to Japan including going to Kyoto, Mt. Fuji and Nara along with the bullet train. Our hotel was across the street from the Kyoto rail station and is a five minute walk to the hotel. Our room is nice, but a little to warm at night.The next day, we're off and running by bus to Mt Fuji. The clouds broke away and we were able to see the top of the mountain with snow on it. We received a free bell with a coupon, brings good luck. along the way, the road has section the plays a song to U.Lunch was next. we tried the veg menu. Very good and different for us as we are not veg eating normally. After lunch, a short ride to the boat on the river. 15 min ride. We next take the tram to the top of the mountain and a great view. Here we head off to catch the bullet train and Kyoto. Personal guides meet you at station to be sure you are on the right train and how many stops you must go. the same going back to Tokyo two days later.The next day is also a busy day. If you are not use to doing a lot of walking, it may be to much for you. We only walked into the garden, but couldn't go up and down the stairs. Next was lunch. If you are one of the late ones going in at the restaurant the line can be long. two bus loads were here and the line is not moving very fast. By the time we got our meals, we had maybe 25 to 30 mins before are going for the afternoon tour. We saw deer running wild at Nara. Our guide would hold food out to the deer and have bow to us. We opted out at the last stop. my poor feet couldn't make it anymore.We got back to the hotel around 6:30. We left around eight that morning, so it can be a long day for some, but not all. If you tire easily like I did, look into half day tours instead.The last day we meet with a friend at the train station. We checked at the hotel the best way to go to the bamboo gardens. The JR train was the best bet. At y230 per person and a fifteen minute ride. It was about fifteen minutes to walk to the gardens and the walkway is well marked. I would suggest this as place to visit. Many sights to see along here. When we got to the top of the hill, our friend walked down a path and found a tourist train that we could ride. 25 minute ride, great views of the river, trees and some fall colors starting to come in. At the second stop, you get off and walk another fifteen minutes to the JR train station. The cost Y340 is the fare back to the last stop in Kyoto. We enjoy our dinner in the train station.
Overall trip was good, however you can't really go inside half of the temples. Lots of walking but great scenery.
I was very impressed with the quality of this tour. It was run so efficiently with attention every little detail. All the staff were so friendly and extremely helpful. Our tour guidelines, esp Yuki, were amazing. There was someone to guide you at every stop, starting from your hotel lobby and to your return, so you were never left alone to struggle in a foreign country. I would definitely use this tour again if/when I return back to Japan.
This 3 day tour overall was a fantastic experience. We not only met some great people on the trip from around the world that we became friends with, but what we found to be exceptional was the logistics. All of the transportation and luggage handling from the moment we met our day 1 tour guide to the moment we checked out on day 3 was seamlessly handled and very professional. Along the way, every single train ride, taxi ride, or bus ride was accompanied by a uniform-wearing staff, so there is not one single moment where you felt lost or on your own. They even have someone wait for you as you exit a train to walk you to your next transfer train - for us that was at 10 PM on a Sunday night. Incredible! The sights were fantastic. While we were initially excited to see Mt Fuji, we found it to be mostly OK because it took a lot of driving and you end up only being at the fifth transfer station. So, you only see the top of Mt. Fuji, while the majority of your short 15 minute stop is spent battling tourists in what amounts to a gigantic bathroom and gift shop stop. We thoroughly enjoyed Nara and wish we had another hour to feed the deers that were on the ground. Kyoto was a great city - don't forget to check out Nashiki Market on your own, during free time. If I had one gripe, it's that much of the 3 days were spent travelling, whether on a bus or on a train. While that might be inevitable, I felt like the time spent a each stop was a little short. For example, some gift shop stops or shrine visits were only 10 or 15 minutes long. If you consider that the bus has to first park, and it takes a few minutes to get off the bus, you're only spending 7 or 8 minutes at a stop. Before you get to really get your footing or see anything, you're expected to be back on the bus. Maybe this is a universal downside to all group-style tours? Finally, for hotel choice, I would not recommend choosing the Karasuma Kyoto hotel if you don't like hot rooms. The location of the hotel was fantastic close to Ippudo, NIshiki Market, Tokyu Hands department store however, there is no air conditioning in the room. Each room has a switch that says low-medium-high, but there is not temperature adjustment. The entire hotel is set to one temperature, the front desk explained, and more likely than not it will be blowing hot air or some temperature not to your liking. In our 2 night stay, our room was so hot that I barely slept - it felt like I was in a humid sauna. We met another guest who had exactly the same comments about their room. Otherwise, this is a trip worth taking especially if it is your first visit to each of these locations. The tour certainly takes the thinking and planning out of your hands, and you are guided by some fantastic, nice, and knowledgeable tour guides!
This tour was more than I imagined. We had spectacular weather, beautiful cherry blossom viewing, and terrific information about Japan and its people. The Golden Palace and its beautiful grounds were a high point. Our guides and drivers were expert, and provided wonderful information. We enjoyed the tour tremendously and recommend it to anyone who wants an overview of these cultural treasures.
We thoroughly enjoyed this experience and were looked after amazingly well throughout our trip.
Collections
This experience is part of these collections
You may also like
Click to discover other experiences
See all Boats & Cruises
21 Activities City Pass
4 Activities Robot show
15 Activities Robot restaurant
15 Activities Kimono
8 Activities Hakone
9 Activities Temples
10 Activities Asakusa
28 Activities Shows & Cabaret
12 Activities Morning city
12 Activities
See all 30 Collections