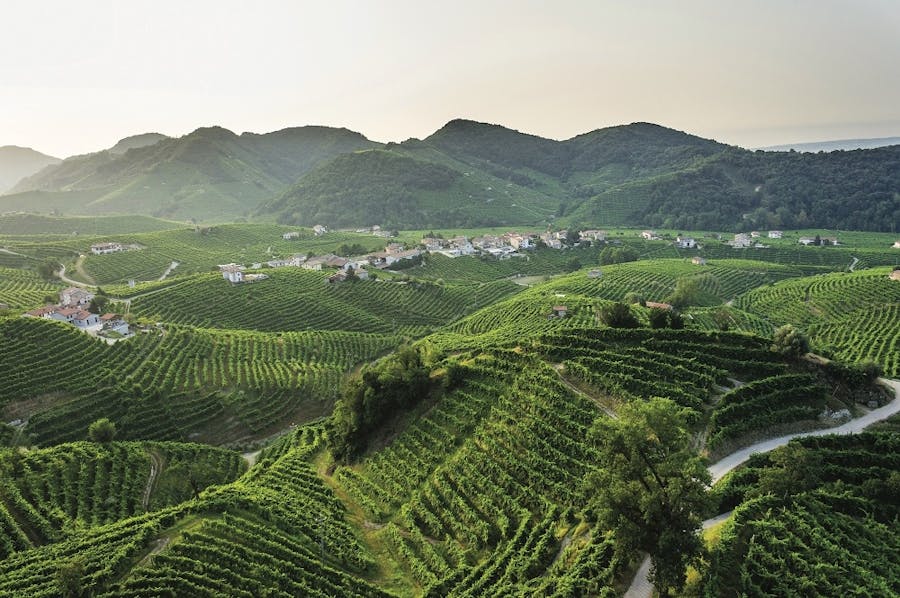 Valdobbiadene and Prosecco tasting at Col Vetoraz
About this activity
Col Vetoraz is a member of The Grand Wine Tour: an Association of the finest wineries across Italy offering exclusive wine tastings, boutique hotels, Michelin-starred restaurants & unique activities dedicated to wine lovers and a luxury clientele. TGWT Mark of Excellence is the very first Italian certification of quality distinguishing high standards in wine tourism hospitality.
Col Vetoraz, founded in 1993 by Francesco Miotto, Paolo De Bortoli, and Loris Dall'Acqua, is in Santo Stefano di Valdobbiadene in Conegliano-Valdobbiadene, an area exclusively reserved for the production of DOCG wines since 2009.
Wines have been produced here for hundreds of years, and Prosecco was first mentioned in documents in 1772. The area extends through the hills of the Province of Treviso between the towns of Conegliano and Valdobbiadene, with the Dolomites to the north and the Adriatic Sea to the east, creating excellent microclimates for vine cultivation. In fact, Conegliano-Valdobbiadene was submitted as a UNESCO World Heritage candidate in 2010, because of the strong bond between its ancient vine-growing culture and the land, as well as for its beauty: its terraced vineyards against an Alpine backdrop form one of Italy's most stunning territories. All work and harvest is done necessarily by hand because of the steeply sloping hills, earning the name "heroic viticulture" due to the demanding nature of the labor. Col Vetoraz strives to preserve the natural characteristics found in their grapes using the best and latest technology. All five of their sparkling wines are Valdobbiadene DOCG, the highest quality designation for a Prosecco wine. Their flagship wine, the Valdobbiadene Superiore di Cartizze (named for the highly prestigious vineyard it is made from), is intense yet delicate with a creamy foam and aromas of flowers and ripe fruits.
You can choose between 2 experiences:
5-wines experience:
Valdobbiadene Prosecco Superiore DOCG Dosaggio Zero
Valdobbiadene Prosecco Superiore DOCG Brut
Valdobbiadene Prosecco Superiore DOCG Extra Dry
Valdobbiadene Prosecco Superiore DOCG Millesimato Dry
Valdobbiadene Superiore di Cartizze DOCG Dry
7-wines experience:
Valdobbiadene Prosecco Superiore DOCG Dosaggio Zero
Valdobbiadene Prosecco Superiore DOCG Brut
Valdobbiadene Prosecco Superiore DOCG Extra Dry
Valdobbiadene Prosecco Superiore DOCG Millesimato Dry
Valdobbiadene Superiore di Cartizze DOCG Dry
Brut Rosa Dodici Lune
Single-Variety Glera grapes Grappa di Prosecco

Read more
Show less