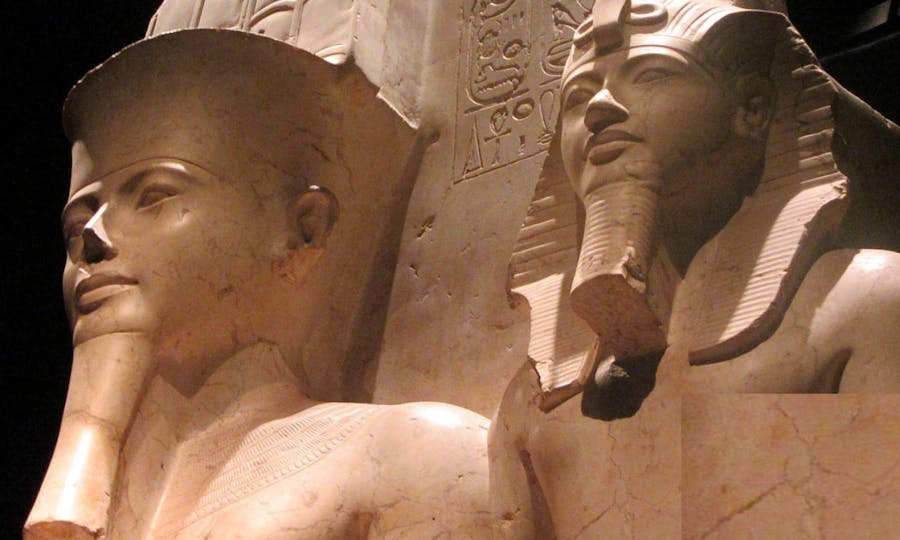 Tour of Turin with tickets and guided tour of the Egyptian Museum
Variable
Popular
Ticket
With guide
About this activity
Visit the historic center of Turin while strolling through its majestic plazas: starting from Piazza Castello, the ancient seat of royal power, you will walk through the sumptuous Galleria Subalpina and reach two locations closely associated with the Italian Risorgimento: Piazza Carlo Alberto and Piazza Carignano, just next to the most important museum of the Risorgimento in Italy. Heading towards Salotto di Torino, Piazza San Carlo, and moving along the ancient Via Nuova, now Via Roma, you will return to the ancient Collegio dei Nobili for a jump back in time of at least 5,000 years, where you will immerse yourself in the wonderful world of one of the most important civilizations in history: Ancient Egypt.
Discover the Egyptian Museum of Turin with a Musement guided tour: travel back in time and relive the splendor, luxuries and daily life of the pharaohs and queens of Ancient Egypt.
The Egyptian Museum of Turin - the world's first Egyptian Museum, second in importance only to the Cairo Museum - houses about 300,000 finds, 26,000 of which are kept in warehouses for scientific research. Mummies, papyri and funerary finds of the great pharaohs make it an unmissable location for anyone visiting the city of Turin.
The Museum of Egyptian Antiquities was founded in 1824 when King Carlo Felice purchased a large collection of Egyptian antiquities - from statues, sarcophagi and mummies to papyri, bronzes, amulets and everyday objects - initially put together by egyptologist Vitaliano Donati and later expanded by Bernardino Drovetti, Consul General of France in Egypt. Thanks to excavations conducted in Egypt in the late 19th century and in the 1930s, the collection continued to expand until it reached its extraordinary grandeur of today.
Discover the Mensa Isiaca (the first object to arrive in Turin for the museum, probably manufactured in Rome in the first century AD for a temple dedicated to Isis), the small temple of Ellesija (the last object acquired by the museum, a 1970 donation by the Republic of Egypt in recognition for Italy's support in the rescue of the Nubian monuments) and a copy of the Rosetta Stone, now preserved at the British Museum in London.
Read more
Show less
Similar activities in Turin
Click to discover other experiences