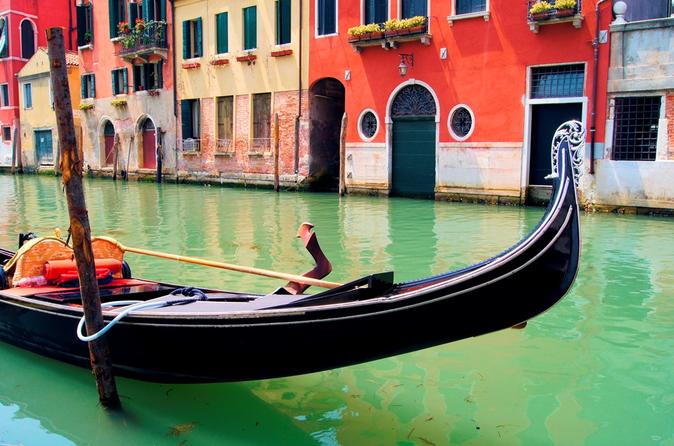 Private Venice Gondola School: Learn How to Be a Gondolier
About this activity
Meet your instructor in a quiet area of Venice, and then head to the waterside where your gondoletto is ready and waiting for you. More stable than traditional gondolas, gondoletti have been used for centuries to train the Venetian gondoliers.

Start your experience with some on-land training to learn how to keep your balance on the water. Then, hop aboard your gondoletto and discover the tricks to gently row, steer and stop on the open water. Each group member will take turns at the helm, and your instructor will be close by to give you all the attention you need.

Stand facing the bow, and learn how to row with your long single oar. Practice your strokes on quieter canals; when you feel more confident, head out along the picturesque canals.

As you glide, listen to your instructor talk about the history of the boats and of life as a gondolier in Venice. Dating back some 1,500 years, gondolas were invented to help the early Venetians travel around the waters of the Venetian lagoon. Competition for the ancient job is still fierce, and there's a grueling training program for all wannabe gondoliers. To qualify, trainees must study Venetian history and architecture, a foreign language and sailing techniques. At the end of their apprenticeship, gondoliers must pass a comprehensive exam before finally taking to the water.

After nearly 1.5-hour of learning how to be a gondolier, return to dry land and bid your instructor a fond farewell. Your gondolier experience finishes in the same place as the starting point.
Read more
Show less
Features
Tourism
95%
Cultural
70%
Original
65%
Collections
This experience is part of these collections