The Second City of Empire: A Kolkata Heritage Walking Tour with Private Transfer
You will be transferred to the Lalit Great Eastern Hotel, where your guided walk commences. Lal Dighi, the small rectangular water tank is at the heart of Colonial Kolkata. Its British name became Dalhousie Square after Lord Dalhousie who ruled India from 1848 to 1856. Today it is named BBD Bagh after three Indian Nationalists fighting for an independent India. You will walk past colonial buildings erected during the British reign. St. Andrew's church is a simple looking white church with a tall spire, Kolkata's first and only Scottish church. It was built in 1818, when the Scottish exercised considerable influence. Then you will see the Secretariat or Writer's Building, which is the best known building in the BBD Bagh area of Kolkata. This deep red building stretches across the northern edge of Lal Dighi. Writer's building once was the office of the clerical and administrative staff of the famous British East India Company. It is now the West Bengal State Secretariat. The building dates back to 1777.
Next is the Kolkata Collectorate Building which was built in 1890. Today it is the office of the Commissioner of the Presidency Division of Kolkata. Further down, the General Post Office stands out with its sparkling white color and its big dome, impossible to miss. Next to it is the Royal Insurance Building dating back to 1905. The size and facade of the building indicate the wealth of insurance companies before Independence. During colonial times Indians were not allowed to purchase insurance. Next on our walk is Metcalfe Hall. This building draws its inspiration from traditional, ancient Greek architecture. Tall Greek pillars are the easy giveaway. Built around 1840, it was home to the Imperial Library of Calcutta, which later became the National Library of India. Currently, it houses the library of the Asiatic Society. Onward you reach the Town Hall, a public building built in 1814 for public functions. It is now managed by Kolkata Corporation and houses painting exhibitions. Having enjoyed this overview of Kolkata's early days, you will be driven back to your hotel.
Details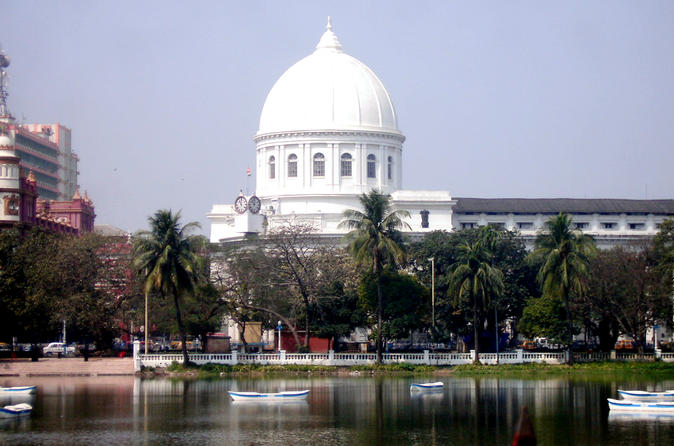 Similar activities in Kolkata